Hands on with the Intel-powered Orange San Diego
Assault on battery?
First look Orange joined forces with Intel today to launch its first Atom-powered smartphone, the San Diego, which I had the opportunity to play with ahead of release.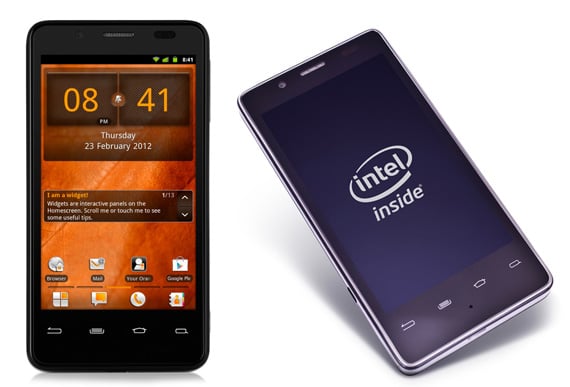 I was immediately taken aback by the San Diego's 4in capacitive display, which wows with a resolution of 600 x 1084 pixels and 16m-strong colour palette. Text and icons are super crisp, the demonstration video looked impressive and I was already commenting on the detail of the display before I'd made any opinions on the handset's construction.
The build is splendid too, perhaps a tad lightweight for my liking, but certainly sturdy enough to withstand any accidental knocks.
The button layout is fairly run of the mill, with a volume slider and instant-camera pin on one side, as well as a standby stud to the top left. I prefer the latter being aligned to the right, but time breeds familiarity and its placement is by no means awkward.
You'll find a Micro USB port for charging on the bottom, with a mini HDMI on the left, utilised for 1080p playback on HD tellies. The battery can't be removed without taking the handset apart. And there's no card slot to expand 16GB of on-board storage.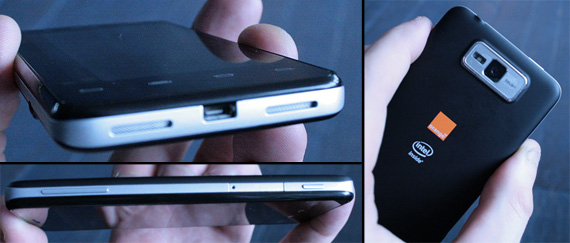 So far so good. But hardware manufacturing is one thing; making use of an untried platform for mobile - in this case, the 1.6GHz Intel Atom Z2460 - is another matter entirely. It's an x86 system-on-a-chip, and while Orange has Android 2.3 Gingerbread running on it, most Android apps are coded for the ARM platform.
Saying that, I found little difference between the 'Medfield' processor and its Arm equivalents in terms of performance. Everything ran quickly and smoothly. Orange's customised Android build was navigation friendly, and anyone already familiar with the general Droid setup will find their way around with ease.
Browsing the web was creditable, with both tap and pinch to zoom functions, as well as support for HTML 5. I had no trouble navigating my way through our own incredible webpage, so what more do you need?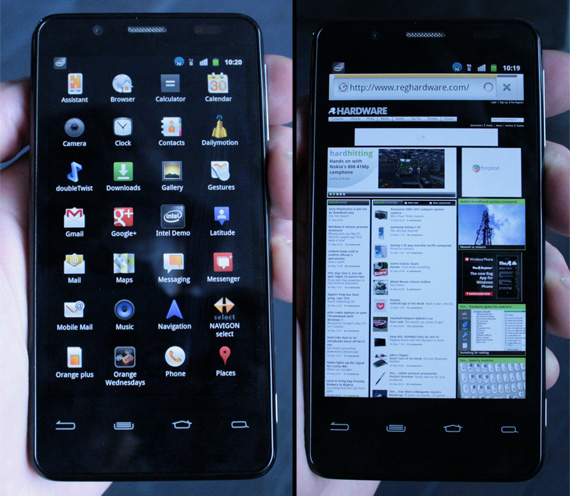 Many punters will be worried whether Medfield will be able to handle apps compiled for ARM chips, a concern both companies were quick to address. Orange insists that "most apps", particularly "the main ones", will have no problem running on the San Diego, which uses an ARM emulator to provide software compatibility.
Despite support for the 21.1Mbps HSPA tech, I couldn't establish a fast enough connection to download applications, so we'll have to reserve judgement on connectivity and compatibility until we get our hands on San Diego for a full review.
The same can be said for battery life, which despite an "average capacity", is claimed to last eight hours of talking and 14 days on standby. Orange says superb optimisation deserves the applause there. We'll see, however running games that require the conversion could drain juice considerably.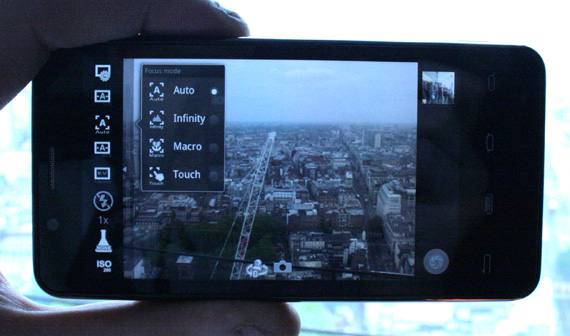 Unfortunately, the handset's 8Mp camera produced pics that feel a bit washed out, even with the backlight correction function enabled. But there are heaps of photography options, such as the ten-shot burst capture, to keep the average hobbyist happy.
The 1.3Mp front-facing camera was particularly grainy and it would be nice to see manufacturers raise the bar in that area. I don't know about you, but I use the front-facing camera on my smartphone in equal proportion to one on the rear.
Other features include NFC capabilities, Orange's HD voice tech for clearer transmissions, and Orange Gestures for one-stroke access to favourite apps. I failed to see any DLNA options, which will disappoint those of you who like to stream content from Nas to phone.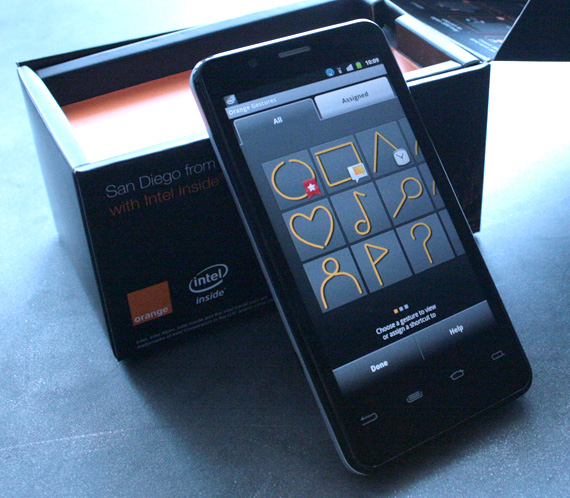 The Orange San Diego is released next week for around £200 on PAYG. It can also be snapped up for free on contracts starting at £15.50 a month.
For that price, the San Diego is fabulous value for money and while it might not match up to the premium phones available for twice that figure, it certainly makes that famous saying feel redundant. Yep, this is the 21st Century and we can indeed compare Apples and Oranges. ®