HTC One V Android smartphone
High five?
Camera shy
In line with its junior status, the One V has a 480 x 800 screen measuring 3.7in corner-to-corner. It's a basic LCD panel with no IPS voodoo but is bright and colourful, while the 252dpi pixel density is only four per inch short of the One S's resolution.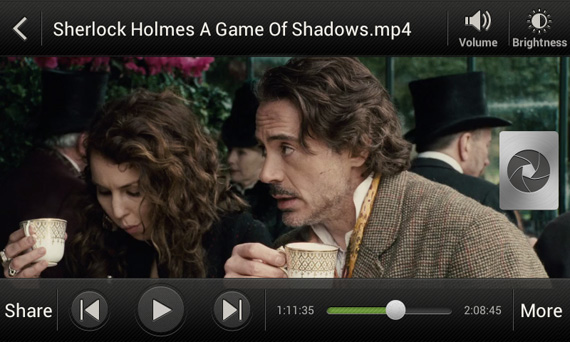 720p video playback looks a picture
The camera is more of a drop-off from the rest of the One range – at 5Mp and only able to record HD video in 720p, it's nothing more than ordinary though it does at least share the family trait of a very quick turn-around time between snaps.
While the One X has 32GB of storage and the One S 16GB, the One V has to make do with a meagre 4GB, though uniquely in the One range you also get memory card expansion. That 4GB is a bit misleading though. My handset showed only 940MB free for apps and a useless 95MB for internal file storage.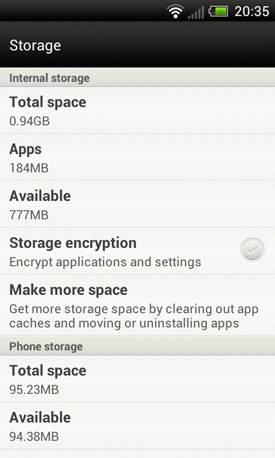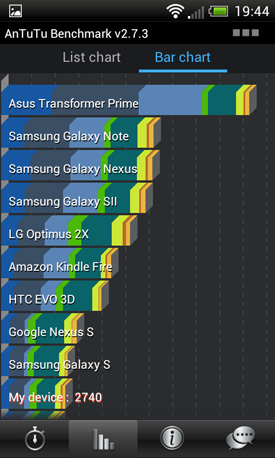 4GB - where? Shrinking storage and AnTuTu scores
The One V also lacks a secondary camera and that comes as a bit of a shock. Less so the absence of any NFC tech. We're back again to the issue of HTC parcelling out features across the One range in the name of marketing strategy, rather than value and that, combined with the sub-4in screen and single core CPU, highlights a problem.
At around £220 unlocked or £23 a month on contract the One V is not a cheap phone, especially now that Vodafone will happily sell you a Huawei Ascend G300 for £100 pre-paid or £15 a month.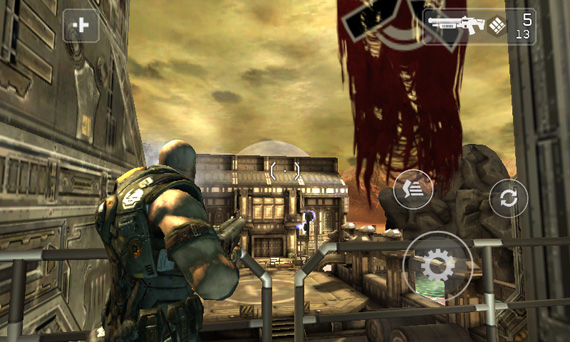 Shadowgun plays well
Which is the better? The HTC has Ice Cream Sandwich, Sense 4.0, Beats Audio – though no Beats earphones – and aptX-enabled Bluetooth 4.0 and a more modern CPU and GPU (Adreno 205 vs Adreno 200) but the Huawei has a 4in 480 x 800 screen, a genuine 2GB of built-in file storage, a VGA secondary camera and an ICS update is promised in the summer.
Both have the telephonic basics covered well enough, though the HTC scores better for battery life – unless you hammer it you can go two working days between charges. The HTC also feels much the higher quality product and is both thinner and lighter.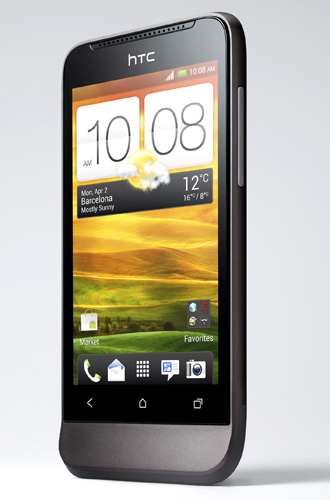 Well built, but missing a trick or two
Verdict
The One V is a thorough refresh of the Hero/Legend form factor but for a phone that is in the mid-price rather than budget category, the absence of a front camera is a drawback. And don't forget, the new dual-core S-AMOLED 4in Samsung Galaxy S Advance will soon be available on contract at exactly the same price as the One V. ®
More Smartphone Reviews

Sony
Xperia S
NXT
HTC
One X
Nokia
Lumia 900
Prada Phone
by LG 3.0
Apple
iPhone 4S
Sponsored: Quit your addiction to storage

HTC One V Android smartphone
HTC's cheapest One range model that still works out a bit pricey.