LOHAN sucks 27 inches
Mounting excitement down in REHAB
The epic saga of our shed-built hypobaric chamber – the Rocketry Experimental High Altitude Barosimulator (REHAB) experiment – continues today with the news that we've just laid our hands on a proper vacuum pump which allows LOHAN to suck an impressive 27 inches.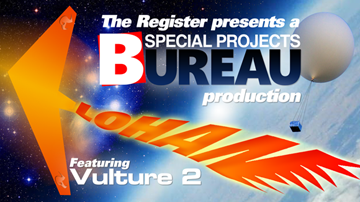 REHAB newbies should get some background info here and here before proceeding, but for those of you who've followed the project from the off, let's get straight down to it.
After a couple of months of full-fat faffing with fridge compressors, which ultimately clapped out, we went in search of a professional substitute, and found it in the form of the DVP LB.3 oil lubricated rotary vane beast.
The SPB would like to say ta very much to Kate and Pete down at Applied Vacuum Engineering for their advice and ultimately for providing the pump.
So, here's the pump mounted and attached to the REHAB chamber: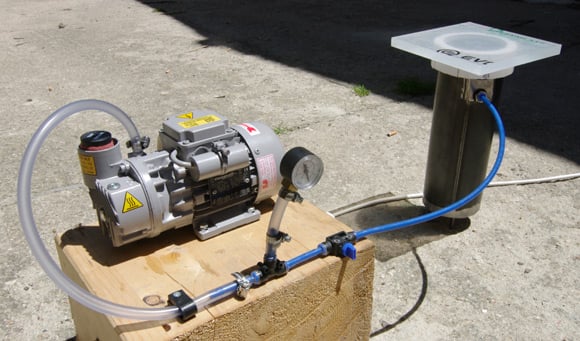 As you can see, the chamber's now sporting its lid – a 15mm sheet of Plexiglass – sitting comfortably on the silicone rubber seal, and still with protective film on the upper surface.
In case you're wondering, the transparent lid will allow us to film what happens inside the chamber when the rocket motor ignites. It'll also act as a safety valve, and will pop off when the chamber's internal pressure rises drastically.
Obviously, we don't intend to point a camera straight at the lid. We'll be using a small sacrificial mirror, set at 45°, to avoid blasting our vid kit.
Yes, yes, we hear you cry, that's all very interesting, but what about the new pump? Right, as we've already said, in the configuration seen above it drew a vacuum of 27 inches of mercury. This is roughly equivalent to to an altitude of 55,000ft (16,760m) where the pressure is 76mmHg, for those of you who like a bit of metric.
Our previous attempt managed to hit 44,000ft (13,500m), so we're closer to our original aim of a 15mmHg test environment - equivalent to 76,000ft (23,160m).
We reckon improving our slightly dodgy plumbing might help LOHAN suck another inch or so, although we are wondering whether the test altitude is having an effect on the possible vacuum.
The SPB test facility is at almost exactly 3,610ft (1,100m) above sea level, and according to this handy guide, that's going to limit the pump's performance.
Well, we'll leave the experts among you to argue that one out while we move forward towards the long-awaited REHAB tests. We're still waiting on a last few bits and pieces to arrive, so we'll take the opportunity to tune the REHAB rig and fit the cable feedthroughs we'll need for the thermocouple and rocket motor igniter cables. ®
Further LOHAN resources: