Volvo claims V40 is first car with an airbag for pedestrians
Protection for head-in-clouds texters
Volvo has devised an automobile airbag for pedestrians.
The car company is building the new tech into its V40. Sensors detect the impact, and a control unit works out whether the signals they're sending indicate that the car has collided with a person.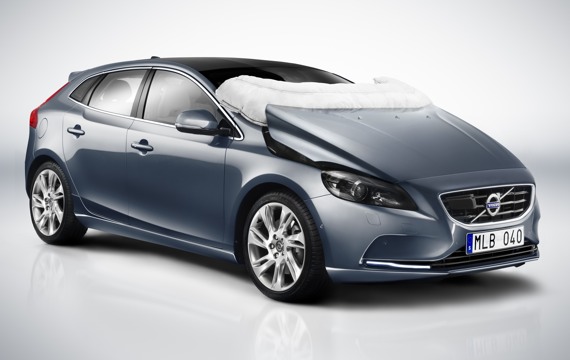 If it thinks that's the case, it deploys the windscreen and A-frame shielding airbag in, Volvo said, a few hundredths of a second. The bag, which covers the wiper area, is filled even more quickly than that.
The bag deploys from up behind the rear of the bonnet, which lifts 100mm to release the bag and to absorb energy from the collision. It ensures there's more of a space between bonnet and engine, giving the bonnet more room to deform as it takes energy out of the impact.
The system is active at speeds between 12.5mph and 31mph. Volvo said three-quarters of all accidents involving pedestrians take place at up to 25mph.
In Europe, 14 per cent of car crash fatalities are pedestrians. In the US, with its less densely packed streets, the figure is 12 per cent. In China, it's a staggering 25 per cent. ®