Insect vision a template for computer 'sight'
Can you see what bees see?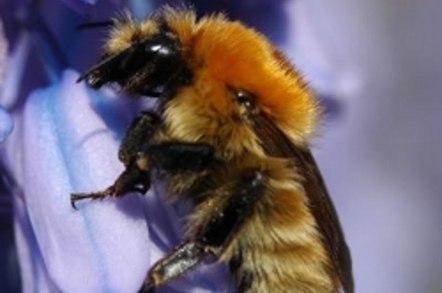 Computers aren't yet good at making complex, ad-hoc decisions from visual inputs. However, the discovery at Melbourne's RMIT that bees' brains are big enough to do so could set the direction for future computer vision research.
According to RMIT Associate Professor Adrian Dyer, of RMIT's school of media and communication, the Australian-French project demonstrated that honeybees have enough brain to apply multiple rules to complex visual problems.
Humans do such things pretty much without thinking: approaching an intersection, Dyer said, we can simultaneously "observe the traffic light colour, the flow of oncoming cars and pedestrians to make a decision."
Experience, Dyer said, teaches us to apply complex rules to this kind of problem – but a primate brain isn't needed to show similar kind of learning. In the RMIT experiments, bees were placed in a Y-shaped maze, and given different elements with specific relationships, such as above/below or left/right.
The research suggests that bees were able to learn that elements had to follow two sets of rules in a specific relationship, while also processing elements that were different to each other.
As the researchers write, "Bees that learned to classify visual targets by using this dual concept transferred their choices to unknown stimuli that offered a best match", noting that cognitive processing can be "achieved by relatively simple neural architectures".
Because bee brains are simple and accessible, Dyer said, the experiment "offers the possibility of deciphering the neural basis of high-level cognitive tasks".
If this kind of processing can be deciphered, it will become much easier to recreate similar processes in computers, making for robots able to process more complex visual inputs more quickly.
Monash University, and French collaborators from the University of Toulouse and the Centre National de la Recherche Scientifique worked with RMIT on the research, which has been published in the Proceedings of the National Academy of Sciences (abstract). ®