iPad grabs lunch money from mobile PCs, pushes them in the stingers
Steve Jobs' soul goes marching on ... in the Channel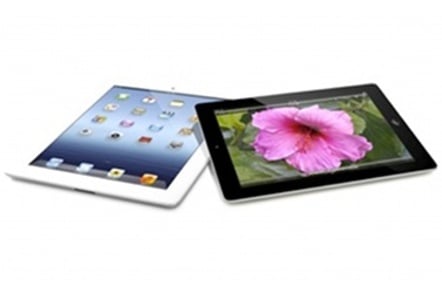 iPad sales trounced sales for netbooks and notebooks in the first quarter of 2012 pushing Apple to the dominant position in the mobile PC market, show new figures from analysts NPD.
NPD ran together tablets with netbooks and notebook PCs in their "Mobile PC category" and skyrocketing iPad sales of 13.6 million in the first three months of 2012 put Apple head and shoulders above everybody else in the sector, providing fresh evidence for the thesis that tablets are the future of the PC. The mobile PC anyway.
Adding in MacBook sales of 3.6 million gives Apple a total 22.5 per cent share of the mobile PC market, leaving closest competitor HP for dust with sales of 8.9 million and a market slice of 11.6 per cent.
Acer, Lenovo and Dell divided up the remains of the mobile PC market between them: Acer pocketing a market share of 9 per cent, Lenovo with 7.7 per cent and Dell fifth with 7.3 per cent. Asus had been booted out of the top five.
Shipments were up in the area - 30 per cent compared to the same three months last year - but this was mainly good news for Apple: tablet sales were up 124 per cent year on year, PC notebook sales were only up 12 per cent. Netbooks and notebooks are still alive clearly, but slow moving next to the booming tablet sector.
Separating out tablets: the iPad has 62.8 per cent of the market, Samsung following next with 7.5 per cent of the market and sales of 1.6 million. Amazon and RIM had 4 per cent and 2.3 per cent respectively.
ASUS is the only mainstream PC maker to make a showing in the top five tablet brands, tying with RIM on a 2.3 per cent share of the tablet market and sales of 0.5 million for Q1. ®