Steve Jobs' 'private Apple spaceship' seeks public love
Can Cupertino locals swallow biz baron's glass doughnut?
Apple's head bean counter has asked his company's neighbours to back plans for a new 2.8 million sq ft glass doughnut office in Cupertino, California.
Chief financial officer Peter Oppenheimer sent out leaflets to locals last week asking them to support the fruity tech titan's planning application for a new gaff - called Campus 2 - a futuristic erection designed by British architect Norman Foster with the personal input of Apple co-founder Steve Jobs.
"It's a little like a spaceship landed," Jobs reportedly told Cupertino City Council officials late last June despite being gravely ill at the time.
Oppenheimer urges citizens to lobby the council on Apple's behalf, or to let the Foxconn-rebrander use their names in its bid.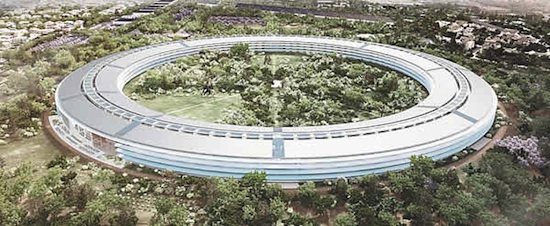 The Glass Doughnut's apricot woods and restaurants will not be available to locals
Apple's neighbours will benefit from improved sidewalks and bike lanes if the 175-acre development goes ahead, the CFO argued, adding that 120 acres of the site - currently old HP offices - would be converted into parkland and woods. A change that could only be good for the area, he said:
What's currently a sea of asphalt will be transformed into nearly 120 acres of green space
Still, it will be green space that the locals won't be allowed into.
Oppenheimer's pitch included a description of the lush new facilities that would be created at Campus 2, according to Reuters. He listed wooded pathways, restaurants, and fitness centres, though clarified that these would not be available to non-Applers. The building will not replace Apple's sprawling headquarters at 1 Infinite Loop in Cupertino.
Critics of Campus 2 say that the 12,000 to 13,000 employees who will work at the office will cause road jams and put pressure on local services. Cupertino Council will assess the planning application on the environmental impact it will have - which will include the traffic, noise and air quality issues arising from the development. ®
Sponsored: How to get more from MicroStrategy by optimising your data stack