Diablo III
Hell's bells
Are you being served?
This is where the on-line auction house will really add depth to this game especially when the real money starts to appear. Currently, it's too early to tell, let's just hope the hackers and scammers don't spoil it for us straight away. But ultimately in Diablo III it's not important which weapon I am holding, it's the damages stats that matter.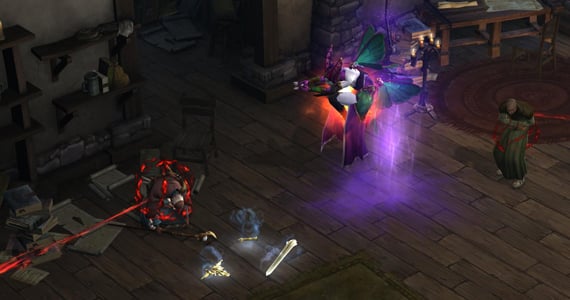 Getting wrapped up in the game
I can never have enough cider health potions, and the quaffable life savers of Diablo II are replaced by absorbable health globes dropped by certain monsters – potions are now only for emergencies. Slightly overpowered with my spider jars and constant health top ups, it's quite a while before I die.
The beautiful dark world aesthetics that were once just a pretty backdrop to the action of Diablo take on a spooky realism in Diablo III. Stunning dynamic environments – that collapse around me and shower bones and masonry – add to the evil ambiance of the game as much as the zombie torsos that creep out of bushes to chew on my leg. But it's the cut scenes that take my breath away. Ah, so now I see where the money went.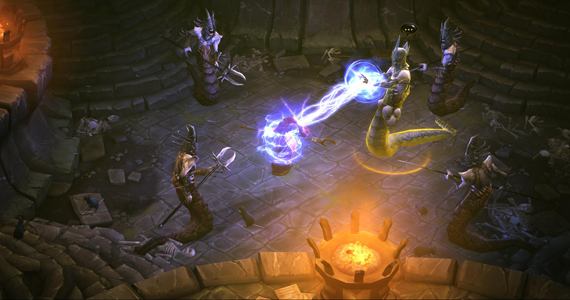 These prawns look a bit dodgy
Along with the main storyline quests, which are very linear, there are character specific quests and random adventures to keep me busy. At one a point I thought I was on Arrakis, as a huge worm attacked me and opened up a cave with so much loot, I had to teleport home to get rid of my stash.
Verdict
Being able to drop in and out of games using battle.net would be great if there were enough servers to cope. Yet at the moment, once I'm logged in, the fear of logging out and then trying to reconnect brings on the Error 37 tremors. Still, I reckon with the amount of issues hitting users out there, this will soon be fixed. So here's looking forward to duelling it out in the now eagerly-awaited PVP patch.
Incidentally, there has been a lot of chat about how Blizzard tested Inferno mode, considered if it was hard enough and then doubled the difficulty. But blimey, first I need to finish the game on normal mode, so I'll get back to you. ®
More Games Reviews

Prototype 2
Resident Evil:
Raccoon City
Twisted
Metal
Mass Effect
3
The Darkness 2

Diablo III
Long-awaited instalment to the Diablo franchise makes a wicked debut.