Hybrid computing just like FLESH-EATING bacteria
A scholarly comparison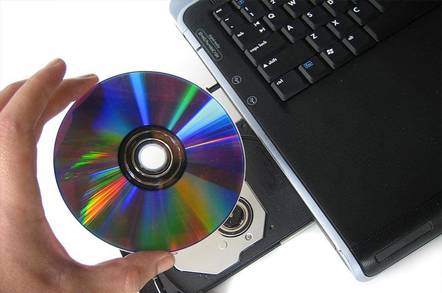 HPC blog Hybrid computing (using CPUs plus GPUs to accelerate processing speed/throughput) and necrotizing faciitis (a flesh-eating bacterial* infection) have more in common than is typically thought. Both exhibit high growth rates, and both are incredibly difficult to stop once they get started.
This story is perhaps best told via pictures. One measure of how hybrid computing has advanced is to look at its presence at the annual Supercomputing (SC) events.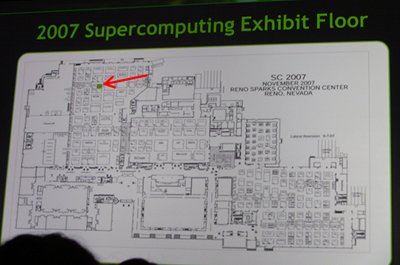 In this first picture, we're looking at the booth layout of the SC07 show floor in Reno. Like a typical SC show, there were a few hundred exhibitors ranging from hardware, software, and service vendors to academic institutions, research labs and government research organisations.
The sole presence of hybrid computing is the tiny green dot at the upper left of the schematic. It's NVIDIA's small booth – the lone beachhead for GPU-accelerated HPC.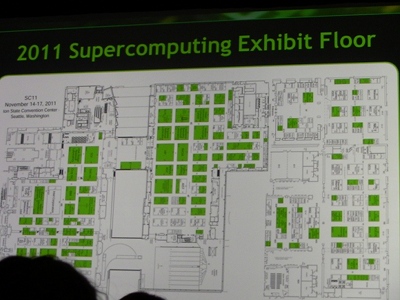 Fast-forward four years and look at the progress. The SC11 show floor diagram is literally covered with green squares and rectangles. One of those squares is NVIDIA's own booth, of course; but what about all the others?
Some of the other booths are vendors selling NVIDIA Tesla-enabled systems like IBM, HP, Dell, Cray, Appro and a host of other OEMs. Other blocks represent companies who offer software tools that are CUDA-related or applications that are CUDA-enabled. Still others are end-user organisations like ORNL, which is running GPU-fuelled hybrid systems.
Having attended both shows, I'm actually a little surprised that the 2011 map isn't a bit greener. In Seattle last year, I tried to smuggle a cat onto the show floor to see whether I could, in fact, swing it without hitting something touting GPU this or that. Unfortunately for me (and fortunately for the cat), the crack security staff at the convention center thwarted my cat-smuggling effort at the door.
At this point, I should probably include some pictures of necrotizing faciitis in order to make my whole 'hybrid computing vs extremely nasty disease' joke work out, but I don't have the stomach for it right now. I just finished trying to eat my obligatory box lunch, and the results aren't encouraging. I'm thinking about changing this story title to "Hybrid Computing or Mystery Meat Wrap: Which is most virulent?" I think I'll have a definitive answer in about an hour or two. ®
* Many types of bacteria can cause necrotizing fasciitis – including streptococcus, staphylococcus (affectionately known as staph), and many many more.
Sponsored: How to Process, Wrangle, Analyze and Visualize your Data with Three Complementary Tools