Dell forges GPU-enriched virty rack workstation
Quadro graphics and Tesla compute tag team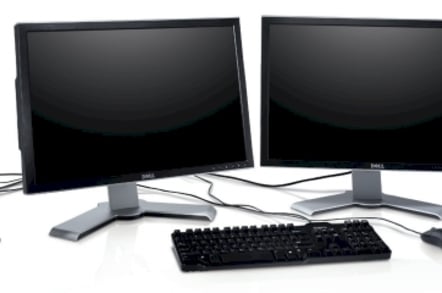 Like everyone else on the planet, you want a rocketsled to do your work. The faster, the better. But if Dell has its way, it may not be on top of or underneath your desk, but sitting in a rack in a data center. And it may not be a rocketsled as much as a rocketbus, with multiple people using it at the same time.
Virtualization means sharing, and with the average utilization on a PC or workstation being very low, you can't blame companies for wanting to employ virtualization to have multiple users share a piece of iron, giving them peak performance when they need it and yielding to others when they don't.
To that end, Dell is rolling out the Precision R5500 rack-based workstation, which is a two-socket server equipped with up to four Nvidia graphics cards and special software from Citrix Systems that can virtualize and stream 3D graphics over the network down to thin clients that engineers, scientists, and other high-end workstation users will sit at and pretend they have an actual workstation of their own.

Dell's Precision R5500 workstation
The R5500 rack workstation is not based on the just-announced eight-core Xeon E5-2400 processors for two-socket boxes, or even the eight-core Xeon E5-2600 processors that came out in March, but rather on last year's six-core Xeon 5600 processors.
The system motherboard has two PCI-Express 2.0 x16 slots expandable to five slots with riser cards, and Dell says that it can put up to four of Nvidia's Quadro 2000 midrange 3D graphics cards in the box; it will also support higher-end Quadro 4000, 5000, and 6000 3D cards in the box as well at some point in the future if you need more oomph. You only have 900 watts of thermal capacity to play with for the graphics cards, no matter what you choose.
And if you want to go all Maximus, by which Nvidia means doing GPU-accelerated computing and visualization inside the same box by having Quadro graphics cards and Tesla GPU coprocessors wired together and available to apps concurrently to crunch numbers and display simulations, then you can also slide in Tesla C2075 coprocessors into the box.
You can plunk up to 96GB of 1.33GHz of DDR3 memory in the box, or 192GB of 1.07GHz memory if capacity is more important than speed for your workstation applications. The workstation can support five 2.5-inch SAS or six 2.5-inch SATA drives for storage.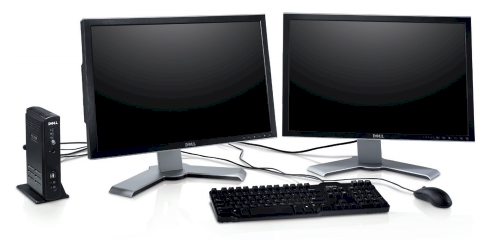 Dell's FX100 Remote Access Device thin client
To get into the rack workstation, you use something called the FX100 Remote Access Device, which is a thin client that is goosed with the PC-over-IP circuits and software from Teradici to make remote graphics work better than your standard remote Windows client. The R5500 rack workstation can have as many as four different users sharing the virtualized workstation through PC-over-IP host cards.
The machine is also certified to support a stack of software from Citrix Systems called XenDesktop HDX 3D pro, which mashes up a XenServer hypervisor, the XenDesktop VDI broker, and special code that allows a graphics card to talk directly to the virtual machine it is tied to without the overhead of virtualizing the graphics card. This is akin to the un-virtual network and disk drivers that hypervisors have supported in the past because of performance issues.
The R5500 workstation supports Windows 7 Ultimate and Professional, Windows Vista Ultimate or Business, Red Hat Enterprise Linux 6, or FreeDOS. The base R5500 with one quad-core Xeon E5603 spinning at 1.6GHz, 4GB of memory, a base Quadro NVS 295 2D graphics card, one 500GB SATA drive, and Windows 7 Professional will run you $2,742. This is a completely stupid configuration designed to make you think this stuff is cheaper than it is.
The real configuration you want has two six-core Xeon X5690 processors running at 3.46GHz, 128GB of memory, dual Quadro 4000 graphics cards, two Tesla C2075 GPUs, four 500GB SATA drives in a RAID 5 configuration, dual remote access cards for the FX100 clients, two of those clients, and Windows 7 Pro on the rack workstation. For this, you are talking $34,086. Now that's a real price for a real machine for real users. And the Dell configurator complains that if you want that second Xeon processor, then you can't have two Quadro 4000 cards. Hogwash. Put in a bigger fan and a more powerful supply and get on with it. ®