HP Envy 14 Spectre Ultrabook
Shiny slab of laptop lusciousness
Review The test unit I reviewed was forwarded on to me from the Harrods press office. That alone should tell you a lot about the HP Envy 14 Spectre. For you, Harrods may conjure images of oil sheiks browsing bling, affectatious middle classes buying ham and feeble-minded tourists ogling Saint Diana's soiled crockery, but Harrods makes a point of not selling crap.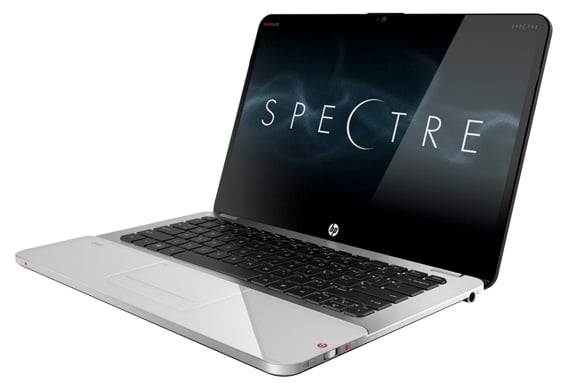 HP's shiny Spectre: glass even covers the full width of the base in front of the keyboard
Forget about money and demographics for a second and instead consider appearance and reputation. If I was the kind of person who bought computers from Harrods, the HP Envy 14 Spectre is exactly the type of laptop I want the great unwashed who linger zombie-like near the entrance to see me walking out with.
The combination of an almost mirror-like black glass lid backed with a cool aluminium body is reminiscent of modern smartphones and tablets but somehow more grown-up and less toy-like. Sure, the HP Envy 14 Spectre probably looks like an executive toy to many of you reading this, but it's still a pretty decent Ultrabook in its own right.
I use the term 'Ultrabook' with some reservation because the Spectre is thicker and heavier than any Ultrabook I have tested for El Reg to date. But what does 'Ultrabook' really mean? Intel has trademarked the word, so it gets first dibs on a definition: apparently, Ultrabooks are "ultra responsive, ultra sleek and ultra stylish devices that are less than an inch thick and wake up in a flash."
OK, the Spectre is all of those things but let's be fair - even Dell's cheapest Inspiron is less than an inch thick. My own definition would be: "less than 0.75in thick and light enough to be held between the fingers and thumb of one hand with the arm outstretched for half a minute without your muscles trembling." The Spectre might fail that one.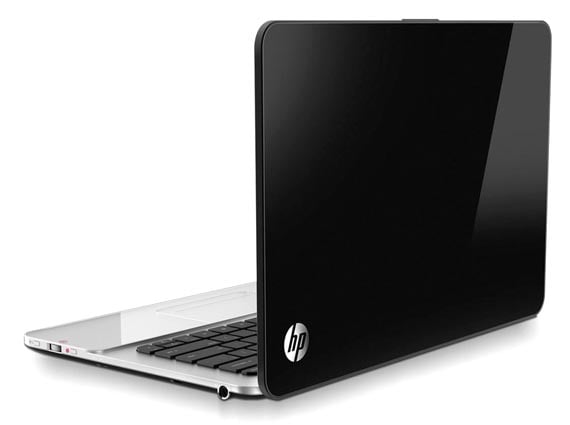 Just to show everyone how spanky you are, the mirrored HP logo on the top glows when it's on
It's possible that the Spectre's thickness and weight are a little greater than expected for an Ultrabook because of its three glass surfaces. The entire top surface of the the lid, the entire surface (display and bezel) on the other side, and more than one third of the base in front of the keyboard is covered by sheets of toughened, scratch-resistant glass.
Sponsored: Practical tips for Office 365 tenant-to-tenant migration