EMC rolls new VMAX bundle for cloud pushers
Array plus SW plus services platform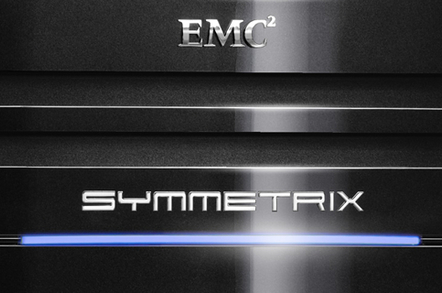 It just sits there and rakes in money for you as users get provisioned, use the space and get billed: that's the message EMC is pushing to cloud service providers with a new VMAX bundle of array, software and services.
VMAX SP – for service providers – is a VMAX array packaged with software and services at four levels to help cloud SPs stick it in their data centres and have the thing up and earning cash in four hours or so.
The bundle includes:
auto-provisioning using the VMAX SP Intelligence Engine and embedded cloning;
multi-tenancy and metering support;
RESTFul API integration to "any service provider infrastructure" for automated provisioning, metering, chargeback and reporting;
four service level options of bronze, silver, gold and platinum for quality of service availability features; and
a self-service portal for service providers.
EMC says that cloud SPs can "easily deploy cloud services" based on the tiered storage offered in bronze, silver, gold, and platinum levels with embedded cloning and efficiency functionality. No details are available of the elements in these four service levels.
With the self-service portal, EMC says, service providers (rather users as we would expect with the "self-service" term) "can easily access VMAX SP's multi-tenant, usage, metering and chargeback capabilities" and "the self-service portal can be used to configure tiers of service". This is a bit like saying sysadmins can access a self-service portal. Well yes, that's called a management GUI isn't it?
EMC will offer service providers planning, integration and operational enablement services plus a set of VMAX SP reference architectures for Infrastructure-as-a-Service (IaaS), Platform-as-a-Service (PaaS) and Software-as-a Service (SaaS) offerings. There will also be a "two week kick start readiness assessment for VMAX SP to ensure service providers are ready to sell, fulfil and support services" with the VMAX SP bundle.
The president of EMC's enterprise storage division, Brian Gallagher, is pushing the hybrid cloud idea, with enterprise VMAX customers being able to use cloud-based VMAX too: "VMAX SP accelerates the transformation to the Hybrid Cloud," says Gallagher. "We're seeing enterprises increasingly turn to service providers to extend their own data centres in an effort to achieve new levels of consolidation, automation and efficiency."
Colt Infrastructure Services, judged by its supportive quote, is going to use VMAX SP in its cloud storage service. The EVP of that business, Mark Leonard, said: "The VMAX SP will allow us to develop solutions that are in line with the way that our customers consume managed IT services today."
VMAX SP, which comes with EMC's premium warranty, will start limited availability in the third quarter for select Velocity Service Provider Partners. ®
Sponsored: Becoming a Pragmatic Security Leader