Inside the Skynet ghost town built by bunker-based boffins
Brainiacs beaver beneath barren burg called CITE
Introducing the underground boffin Oompa-Loompas
Otherwise, the only people around won't be in the city, but rather underneath it. That's where a 350-person staff of engineers and IT specialists will work 24/7 for the entire year (in three eight-hour shifts each day), operating and maintaining the city's experiments in pristine, state-of-the art labs known as the NOC (Network Operations Centre).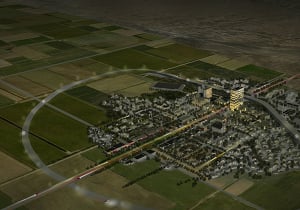 If you have a project on CITE you want to keep a close eye on, you could rent a place at the 200,000 square foot administrative campus.
"We are providing a campus so when users want to come in and rent office space or have access to lab space they can do that locally and not have to worry about not having adequate state-of-the-art lab space to conduct their research," Brumley said.
And the plan is that anyone who wants to stay more permanently will fill up the outlying industrial park, which is why Lea County is happy to have a somewhat spooky test facility.
Underground, Pegasus staff will be monitoring the experiments and gathering the test data, as well as ensuring that experiments from different corporations and government bodies don't interfere with each other.
"I will admit, it's going to be an interesting challenge how we manage," Brumley said. "For example, autonomous vehicles are running on the highway and while they're out there maybe someone wants to test next generation wireless services which might interfere with the control systems of the autonomous vehicles!"
And with just 350 employees to pay and whole city to play with, Pegaus is looking forward to a tidy earning from the project.
Brumley said Pegasus would be making a 20 per cent return on investment, which if he's following the general equation for ROI would mean he's expecting CITE to make about $480m a year. But most of the readies won't be coming from the testing itself, but the resources the town produces.
"I have a city that needs power but I don't have any inhabitants, so once I run the city power, the additional energy that I produce I will sell to the local power company, same with the water and communications and other output we have," Brumley explained. "People forget that cities really are big producers of consumable resources and this city will be the same."
Resource production will bag about 40 per cent of the cash, while testing revenue will be 20 per cent and the operation and maintenance of experiments will come in at around 40 per cent as well.
The first phase of the city isn't expected to be finished until 2015, but CITE will be making money from selling resources from the end of next year.
"It takes a while to spend $400m," Brumley joked. "So our first plan is to build the city from the ground up and below ground as well. We're building all the utility and the infrastructure and the civil engineering over the next year."
And all from the frustration of not having anywhere to run some technology tests.
"We said; 'Why don't we look at a privately owned, privately funded test facility that guys like us could use and let's make our focus one where we attract the smart city community which is a $54bn a year market and also the federal labs which is another $140bn market?" ®
Sponsored: How to Process, Wrangle, Analyze and Visualize your Data with Three Complementary Tools