IMDb
Film fan's feast
Android App of the Week If you're a fan of the movies then this app should be right up your aisle. Not only can IMDb tell you just about everything you could ever wish to know about just about every film ever made, but it has all the information you need to plan your movie-going night out too.
Film opening dates, show times, the location and contact details for your local cinema - it's all here at the touch of a screen, though that's nothing to get excited about these days and it's not why I like this app.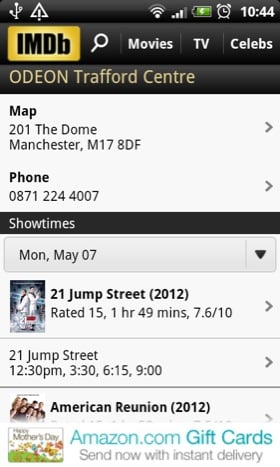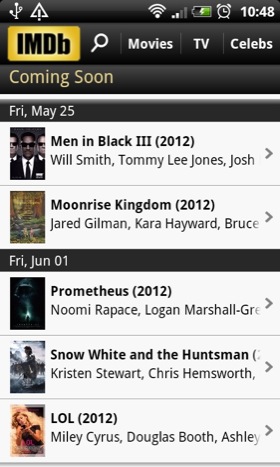 Find out what's on near you now (left) and what's coming up (right)
Nor is it the way that the opening page has the dozen most recent film trailers pinned to it so that you can swipe from one to the next or the reviews by both critics and punters.
No. For me the big deal is the watchlist. A single tap of any title you come across adds it to your list so you never forget that interesting-looking movie or documentary that may only get a limited release or for whatever reason not ever make it to the big - or small - screen.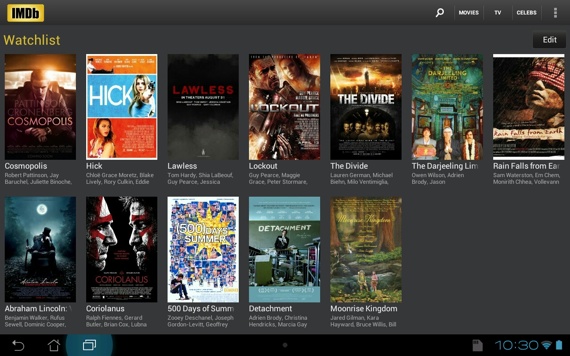 Make a note of what you want to see
I've lost count of the number of films I'd never have seen either at my local arthouse cinema or on DVD had I not pinned the title to my watchlist when I first stumbled across it on IMDb. The most recent was the 2011 American apocalypse horror flick The Divide with Michael Aliens Biehn.
Thanks to an option to either sign into IMDb with a unique account or with your Facebook ID, you can keep everything synced between all your Android devices. That's useful because good though the app looks on a 4.3in phone it looks even better on a 10.1in tablet.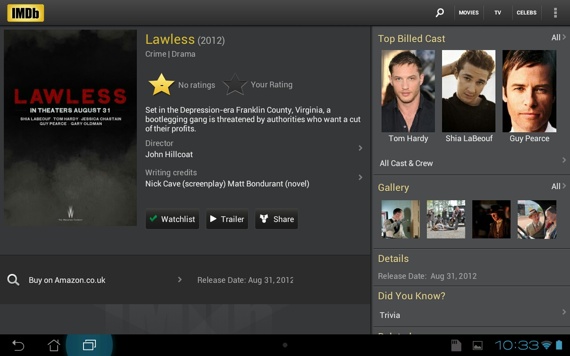 All the details you could possibly want
Of course, that's not to knock the value of the IMDb database. Being able to discover how many films Wes Anderson has directed or who starred alongside Brendan Gleeson in The Guard - surely the funniest film of 2011 - is pretty useful for any movie fan.
There are also a selection of genre-specific most-popular lists to develop and expand your appreciation of the silver screen. I was surprised to see the 1931 classic M top the film noir list ahead of The Third Man, Sunset Boulevard and Double Indemnity.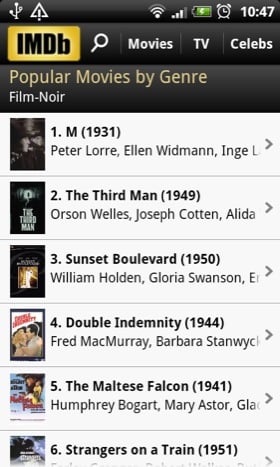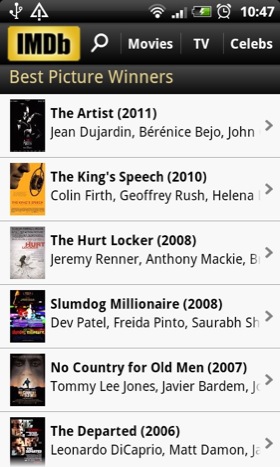 Don't know what to watch? Check out genre faves (left) and past Oscar triumphs (right)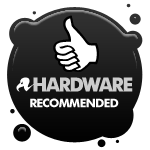 For the less committed there is a list of all the movies that have won Best Film at the Oscars and a Top 250 list as rated by IMDb members. Top of the pile currently is The Shawshank Redemption which was rather predictable, but The Good, The Bad and The Ugly appearing at number five was a pleasant surprise.
The only quibble I have with the app is that there's no option to get UK rather than US box-office results when the former are easily available on the IMDb website. ®
Size 7.5MB
Apps2SD Yes

We make our choice of the best Android smartphone and tablet downloads every Tuesday. If you think there's an app we should be considering, please let us know.
More Android App of the Week Winners

National Rail Enquiries
Textgram
Google Currents
Instagram
TED
Sponsored: Detecting cyber attacks as a small to medium business

IMDb
The definitive mobile resource for the movies.