Best and the Rest: ARM Mini PCs
New shoots from an old acorn
Acorn Antiques
R-Comp bundles a large number of custom monitor profiles to get the best out of the GPU, including support for 40Hz operation at 1080p resolution. Other additions include custom icons for the SD and MS cardreader slots and support for FAT32 media.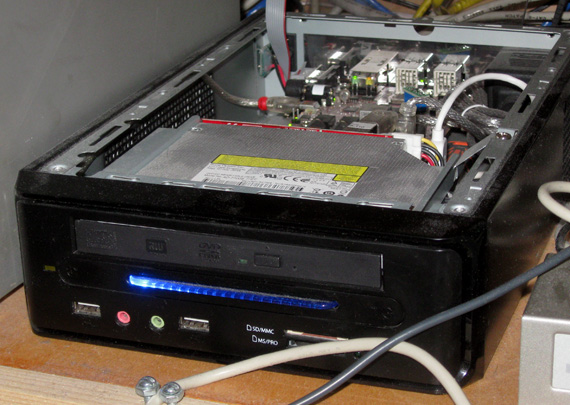 SD and Memory Stick cards slots up front
The company has also added a selection of apps to the basic RISC OS system, so you get the Fireworx word processor-cum-spreadsheet, Netsurf web browser, TapirMail email client, plus network clients for Windows CIFS, FTP, NFS and NTP, games, utilities and more.
RISC OS is pretty basic by modern standards, but then, it's a 1980s OS that predates both Linux and Windows 3. But what it lacks in technical refinement – no swap-backed virtual memory, no multiuser support, only very basic security and memory protection – it makes up for in responsiveness. It's blisteringly quick. It boots in seconds, apps open instantaneously and windows redraw faster than the eye can see. No OS has felt this fast since BeOS.
If you're jaded by a world full of samey X86 boxes and have fond memories of the RiscPC or older Acorns, then the ARMini is a lovely little machine. It's pretty much plug in and go – at about twice the speed of the 600MHz Iyonix, let alone the 400MHz A9home, the two preceding native RISC OS computers. One snag is that as it's a pure-32-bit system, old 26-bit binaries from Acorn hardware won't run, but R-Comp hopes to make the Aemulor 26-bit compatibility layer available for the machine at some point in the future.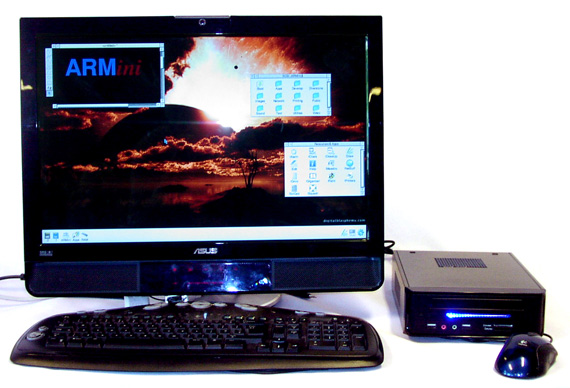 But it has to be said: it's expensive. Even with the RISC OS licences, it's hard to see how R-Comp can justify the price. Even with worst-case pricing, a Beagleboard-xM is about £155, the Linkworld 820-01 case £40, a Platinum thumbdrive £20 and Belkin seven-port hub £15. RISC OS is installed on 5MB of a 4GB microSD card – call it £15. That's about £250 of components; adding the internal audio and USB connections and so on – surely under £300?
RISC OS 6 is £49. Assuming Castle wants something comparable for a commercial licence, there's still an Apple-beating 33 per cent margin in there somewhere. That's a lot even for a pre-installed, ready-to-use machine – but still, it's the fastest RISC OS machine ever. It's very nearly the cheapest, too – only the 1992 Acorn A3010 cost less when new.
Sponsored: Beyond the Data Frontier