FalconStor accelerates dedupe, drives finances over a cliff
Reliably cranking out continuing losses
Comment FalconStor is cranking out $19m to $20m revenues per quarter, punctuated by regular Q4 spikes, but continually makes losses. Why isn't it a healthy business making steady profits and growing?
It is a storage software supplier selling a virtual tape library (VTL), continuous data protection and other products. Its co-founder ReiJane Huai resigned as CEO in disgrace in September 2010 after allegations emerged about improper payments. A year later he was found dead outside his family home.
The loss of Huai - a dominating CEO, president and chairman - set FalconSor back and plunged it into a US government investigation in which it is still enmeshed.
Jim McNiel became the replacement CEO and has struggled to get the business back on an even keel. The results for FalconStor's financial Q1 in 2012 follows eight consecutive quarters of losses with pretty much more of the same red ink - as the chart below shows.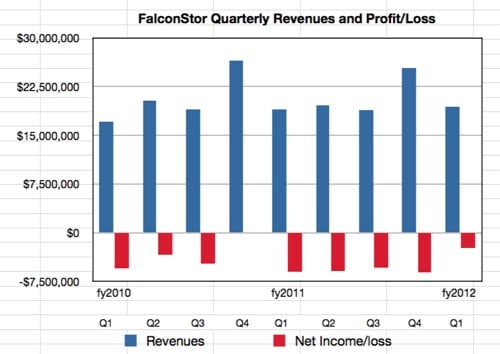 Revenues for the quarter ended March 31 were $19.4m (£12m), up two per cent on the year-ago quarter's $19m; that's flat in everyday language, especially considering the revenue history. Apart from fourth quarter revenue spikes of about $26m (£16m) the figures come in at about $19 million like clockwork. Knowing this, why doesn't FalconStor cut its costs to match that revenue level?
Instead it racks up losses - $2.4m (£1.48m) this quarter. That at least is an improvement on the previous quarter's $6.1 million loss, the $5.4 million before that, the $5.9 million before that, and the $6 million loss before that. McNiel's team can't even squeeze a profit out the revenue spikes; the $26.5 million in the fourth fiscal 2010 quarter saw a loss of $100,000 and the $25.4 million spike in the final fiscal 2011 quarter saw an abysmal $6.1 million loss.
Part of the problem is a switch from OEM sales to channel sales, with the former falling faster than the latter is rising; a common problem when your products are not killers and face lots of competition.
McNiel said: "I am pleased that our business continues to grow and that it outperformed our Q1 results from last year, despite the reduction in our legacy OEM business. We continue to see growth and momentum in our global channel, particularly in the Asia-Pacific region."
FalconStor is developing its products to make them more attractive. Version 7.5 of its VTL offers various deduplication options, including inline, concurrent, post-processing or no deduplication. FalconStor Turbo deduplication can boost performance up to 300 per cent, the company reckons, adding: "In performance tests of a 4-node cluster configuration, FalconStor VTL 7.5 demonstrated the fastest sustained deduplication speeds in the industry: more than 28 terabytes per hour with inline deduplication and more than 40 terabytes per hour with post-processing."
Yet, will EMC Data Domain and Quantum DXi dedupe customers switch to FalconStor? It's not likely because dedupe is a mature market these days.
What's in FalconStor's roadmap to reignite growth? It's not noticeably ahead of anybody else with server virtualisation, notwithstanding some point-product advantages. Similarly it is going through the cloud motions but has no killer technology as far as El Reg can see. Indeed the cloud is a threat if its SME customers start backing up to remote online services and storing data in it too.
It has no obvious hot development initiatives and has not made any acquisitive noises. It closed its latest quarter with $37.6m (£23m) in cash, cash equivalents, and marketable securities; not a large amount of financial firepower. Although the net loss in Q1 2012 was smaller than Q4's in 2011, six more quarters of $6 million losses will clean out those reserves and refinancing might be needed.
Someone in McNiel's team needs to pull a fat rabbit out of the hat. Perhaps the company needs a rejuvenated board, one with wider experience and less tolerant of continuing losses; one wanting more tangible evidence of progress rather than pressing on with steady product evolution and an enhanced channel programme while hoping that the legal troubles don't involve crippling penalties and costs. ®
Bootnote
Don't forget to sling your comments into the FalconStor topic in our forum.