National Rail Enquiries
The train now arriving on Platform 3...
Android App of the Week I should use local trains more often, but there are several reasons why I don't. One is I've no idea where most of my local stations are, let alone the ones dotted further afield around Manchester. Secondly, I can't be bothered picking up timetables.
The new National Rail Enquiries app solves both these problems and could herald a new era of local train usage of Android - and iPhone, it's a simultaneous release - users. Or at least this particular Android user.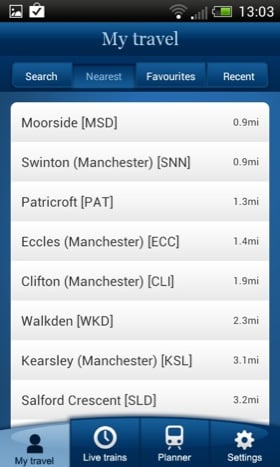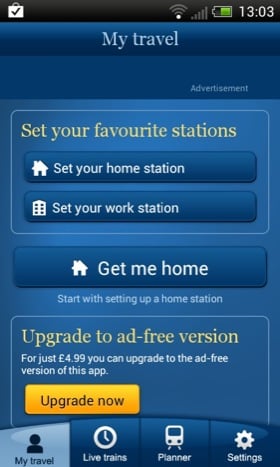 Find your nearest station (left) or your way home (right)
The main feature of this app is that it pulls all the available rail network data live from National Rail so it's as reliable and current as it's possible to be and will flag up any problems. On what's probably the least reliable rail network in Western Europe this info is rather handy.
One signal function is the ability to monitor train arrival times. Very useful if you're picking someone up, or if you are on a train and want to give an accurate time of arrival. You can pin individual services to the app if you use or meet the same train regularly.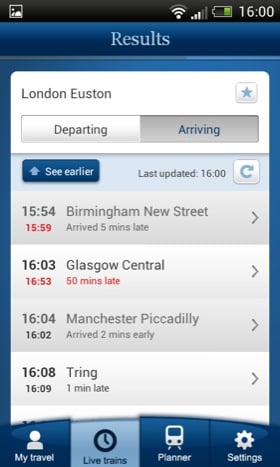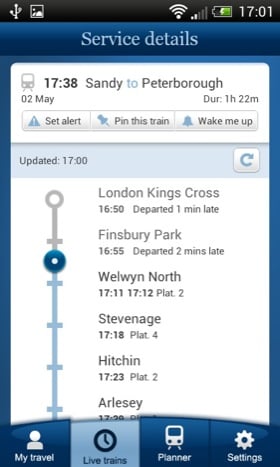 Monitor stations (left) and trains (right) in real time
A features I really like, though, is the one labelled 'Get Me Home' - or more often than not in my case 'Get Me Home, I'm Lost and Drunk'. The app notes your location and shows you the various journey options from the nearest stations to whichever spot you have set as your domicile.
Using this feature over the last week has opened my eyes to a plethora of local train options in Manchester. I had no idea you could even get from Salford Crescent to Manchester airport direct.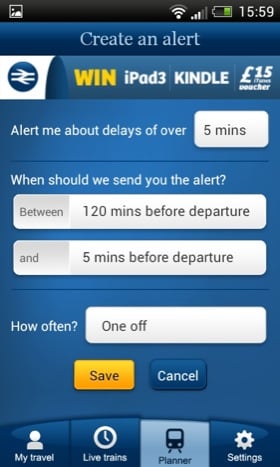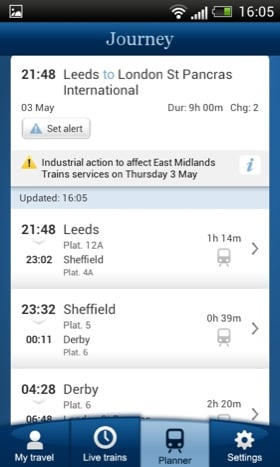 Create push alerts (left) - handy for services you use regularly (right)
Regular commuters can set up push notifications that will let them know if their service is subject to disruption. I'd have sold my left testicle for this when I worked for Sony in London but lived in Bedfordshire. Every evening's arrival at King's Cross was laden with trepidation in those days.
With so much information on offer, the developers have made a good fist of keeping things simple by grouping the various functions into sections called My Travel, Live Trains, Planner and Settings for your alerts, preferences and favorites.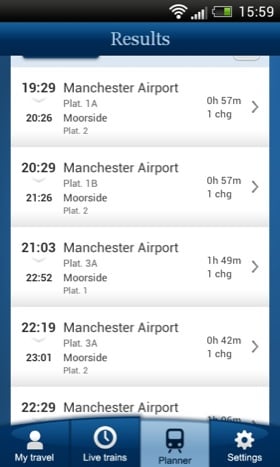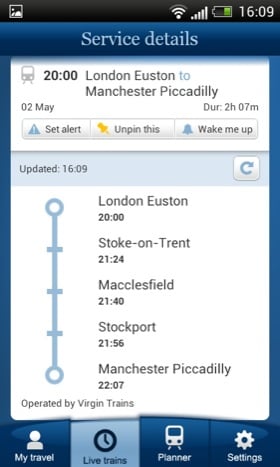 Check out train times (left) and stops en route (right)
What the app won't do is let you book or pay for tickets, but The Trainline has a more-than-serviceable app for that and it generally offers the best prices.
The only leaves on the track are the adverts, which are rather obtrusive and if you want to get shot of them it will cost you an eye-watering and pocket-gouging £4.99. ®
Apps2SD No
Size 3.4MB

We make our choice of the best Android smartphone and tablet downloads every Tuesday. If you think there's an app we should be considering, please let us know.
More Android App of the Week Winners

Textgram
Google Currents
Instagram
TED
Runtastic Push Up

National Rail Enquiries
All the live train information you are ever likely to need.
Price:
Free (ad supported) £4.99 (no ads) RRP