'There is a history of sending intelligence agents to Defcon'
Details of names he used and his "legend", or cover story, for the Blackhat and Defcon conferences have not yet emerged. But government agents – certainly US government agents - trying secretly to take part are a familiar sight, according to regular conference participants.
There is a "history of sending intelligence agents to Defcon", according to privacy researcher and former hacker Christopher Soghoian. The practice has become so familiar, it's now an established joke: event organisers pre-print stockpiles of prized T-shirts that announce "I spotted a Fed".
Participants are invited to interrupt sessions to air their suspicions of a spy within the audience, much like parliamentarians making a point of order, according to Soghoian. The session chair must then invite the accused spook to confess. If they do, the accuser wins an "I've been spotted" T-shirt.
British spooks are not known to have being challenged or exposed in this way. But the quiet Welsh, lean, slim, short, fit young geek with cropped hair and a penchant for red T-shirts is unlikely to have passed unnoticed.
Save for exceptional tidiness, Williams' London government-rented flat was equipped as a nerd should wish: two live Macs, parts of a dead Mac, four iPhones, loose SIMs, and assorted gear.
Digital clues found in Williams' flat
One of the iPhones, the inquest was told, was his "normal" phone, which GCHQ and SIS staff attempted to call when he failed to appear in his office. The others may have been used to cover identities. One of the iPhones, found in the lounge, had been operated on Sunday, 15 August, and reset to factory settings. At 23.54, that iPhone was backed up to his linked Mac Air laptop, potentially overwriting previously stored data and call or chat records. The Mac Air was used to browse the net for another 90 minutes, finally dropping in just after 1am on the web pages of the Evesham Wheelers, a cycling club near Cheltenham.
Hours later on Monday morning, he was probably dead, according to pathology reports on the degree of decomposition found.
Between July 2008 and August 2010, according to records found on the Apple tech, Williams had periodically browsed websites concerning fetish clothing and self-bondage, looked up "bondage training" on YouTube, and checked a wiki on hogties. He had artofcontstraint.com, an "adults only" website offering "exceptional bondage images". The site has not been online since July 2011, but at the time Williams visited, it featured images and video of rope and bondage techniques. He had also made frequent visits to high fashion sites.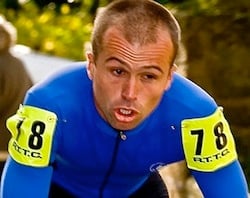 Williams was a keen cyclist
A loner with no identified sexual partners, he was said to have most enjoyed intense cycling, and fell running and climbing in Wales with his father. SIS's internal culture had irritated him, causing him to break his secondment. He would have returned to GCHQ the month after his body was found.
Forensic phone examiner DC Robert Burrows, of SO15 Counter Terrorism Command, told the inquest that he had found no record of the identity of Gareth's date on the likely fateful night. But he did find a homemade phone video in which the shy intelligence officer had stripped, put on boots, bent over a chair and waggled his rear at the camera.
Burrows and his colleagues who studied the Macs and iPhone appeared unfamiliar with Apple's operating systems, and may not have realised what could be obtained by more sophisticated enquiries. He failed to mention iOS or any of its many features that could have revealed location-tracking geo-tags, address book contents and the phone's unique IMEI number - let alone any data passed to Apple and app makers.
The inquest forensically exposed wretched incompetence by the intelligence services as much as it threw a cruel spotlight on the intimate thoughts, leanings and experiments of a very private person. Williams' SIS team leader testified under oath that he had called Williams on Tuesday, 17 August. But this claim was not supported by phone forensics or telephone company records. DC Burrows found instead that SIS had made a series of panic calls between 10am and 11am on Monday, 23 August. They were a week late.
Sir John Sawers, known as "C", has published an "unreserved" personal apology to the bereaved family.
Williams' former co-workers at Cheltenham sit inside the largest data harvesting apparatus Britain has ever seen, an irony that should not be lost on the murder investigators that the Met will now deploy on more a detailed and complete enquiry.
GCHQ has led the demand for long-term storage of all communications records and social networking data, and for untrammelled access to internet providers' networks. They already exercise massive surveillance over the web. Will they tell the police that they cannot now trawl to find the telecommunications and contact data apparently erased the night before their own prize-winning officer died from his own exhalations?
And if not, perhaps they would like to drop in on Apple HQ and ask the geniuses there. ®
Bootnote
Did you go to Black Hat or Defcon in 2008 or 2010 and see or meet Gareth? Let El Reg know by dropping us an email or by calling the London office.
Sponsored: Webcast: Ransomware has gone nuclear