Review Having been in the hardware reviewing game for more years than I care to mention - cue the violins - I have looked at a huge number of notebooks claiming to be both thin and light.
From the days when thin meant something less than half an inch in thickness and light meant something around the 2kg mark if you were lucky, I've sat through so many brain-numbing briefings proclaiming that thin'n'light was the "next big thing", that when the announcement came that the Ultrabook is what has been missing from our lives, it was personally met by a sigh that would make Marvin the Paranoid Android proud.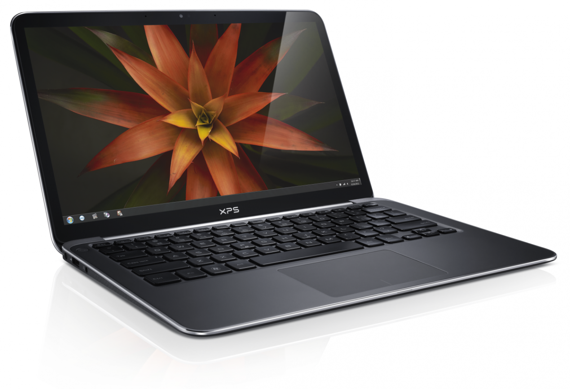 Dell's XPS 13: late to the party, but a head-turner nonetheless
But I have to admit I was wrong. Mobile technology has at last reached the stage where laptops can be very thin, very light and still useable devices.
The skinny notebook that made me change my mind is the one that I'm looking at here, Dell's first foray into the world of the Ultrabook, the XPS 13. And it's not just any old XPS 13 either. It's the flagship, powered by a dual-core 1.7GHz Intel Core i7-2637M processor, the other processor option being a two-core 1.6GHz Core i5-2467M.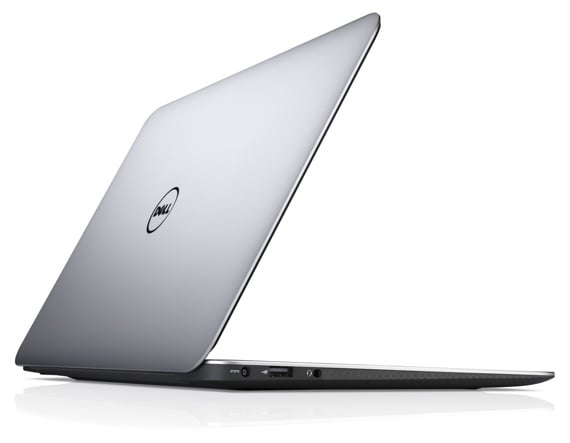 Not perfect but impressive
Dell is a past master at waiting for a new market segment to either mature, or for the buzz to get so loud it can no longer ignore the sound, before unleashing something it hopes will sweep away the competition, which partly explains its late arrival at the Ultrabook party. And the XPS 13 is quite some first attempt. It's by no means perfect, but it's still impressive.
It looks a lot like the previous XPS 15z and 14z models - only if they have been trapped under the wheels of a steam roller. It measures just 6mm at its thinnest point rising to 18mm at its thickest. It weighs in at 1.4kg. It's not quite the thinnest or lightest in its class but there's no question that it is indeed thin and light.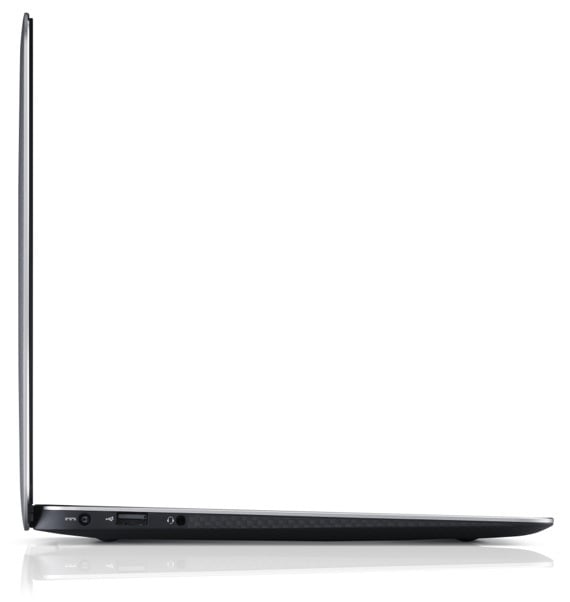 The wedge, USB-on-either side design is a bit MacBook Air
Build quality is top notch, as are the materials the unit is made from. The base is a carbon fibre composite, while the keyboard area is made from magnesium alloy and given a matte black finish which conveniently hides all manner of sticky fingerprints. The lid is made of aluminium which helps keep screen flex to a minimum despite its wafer-thinness.
Limited resolution
As with so many other ultraportables, opening the XPS 13 isn't the easiest thing in the world to do as there are no aids like a decent lid overlap or the merest hint of somewhere to stick a fingernail.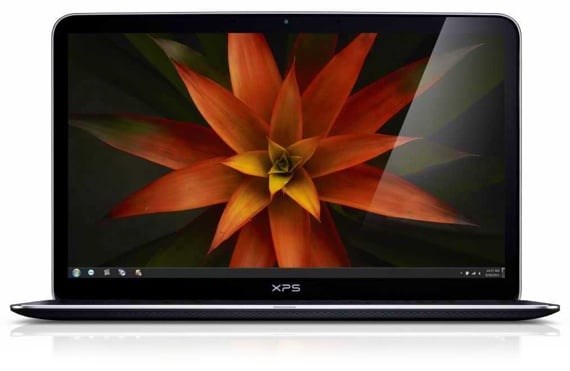 Nice screen, but it's glossy and the resolution is too small
And so to the screen, which is yet another 13.3in panel with a crap 1366 x 768 resolution. It's such a shame that Dell didn't go the extra mile and offer a higher res screen, especially with the price tag this top-end version carries. After all, Asus' 13.3in Zenbook UX31E comes with a 1600 x 900 resolution and the 13in equivalent from the firm with the fruit logo sports 1440 x 900 pixels.
The screen itself goes from edge to edge, is constructed from Gorilla Glass and has a high-gloss finish which may make the colours sharp and vibrant but it doesn't do it any favours in an office environment or outdoors because of harsh light reflections. It also takes a bit of adjusting to get the right viewing angle, but that seems to be a common complaint with Ultrabook screens.
PCMark 7 Benchmark Results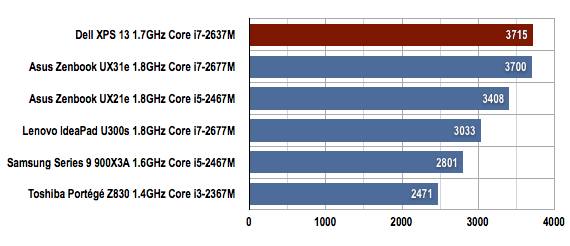 Longer bars are better
Given the small stature of the XPS 13, its trackpad is huge, measuring 100 x 64mm. It supports two-, three- and four-fingered gestures for scrolling, page up, page up and down, switching browser tabs, minimise and Alt-tab Windows switching. It's sensitive without being overly so. In any case, everything can be adjusted or disabled using the appropriate control panel.
The two mouse buttons are incorporated into the bottom of the trackpad which has been marked along the hinge line so you won't get confused as to which is the right- or the left-hand button.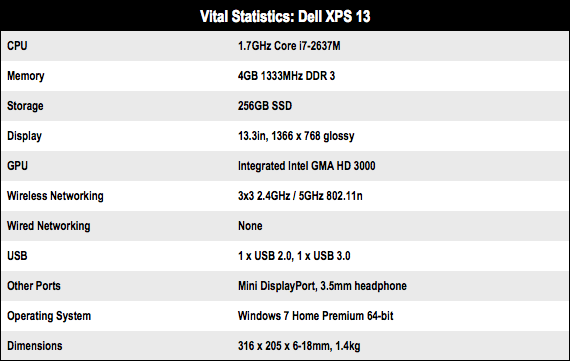 Speedy
Laptops, especially smaller ones, generally rise or fall on the strength of their keyboard. Dell has given the XPS 13 a good one. The full-size keyboard uses the now ubiquitous chiclet type keys and, thanks to their slightly concave centres, they are very comfortable to type on. Another useful feature is that the keys are backlit which helps no end when typing in poor lighting conditions.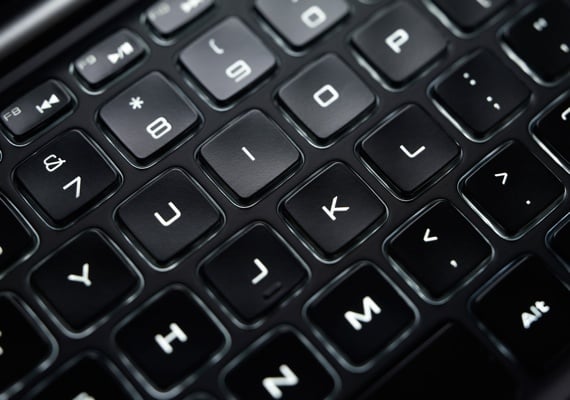 The keyboard is backlit
The XPS 13's storage comes in the form of a solid state disk. It's an interesting choice of drive: its 256GB Samsung 830 is one of the very few quick drives around that doesn't use either a SandForce or a Marvell controller.
Dell claims that the XPS 13 can resume from sleep mode in just one second, which may sound a little far-fetched but when tested my example came into life in just under two seconds from lifting the lid to a working desktop. Starting from a cold boot into a workable Windows desktop took just 23 seconds.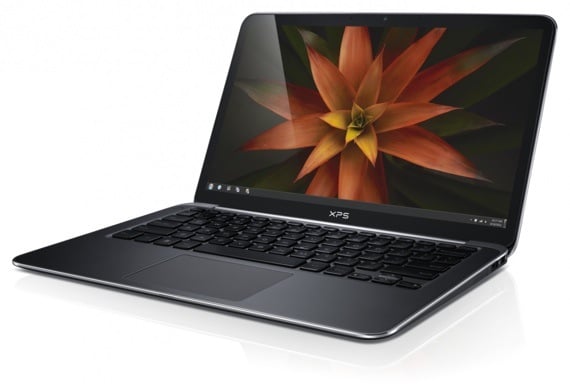 Fast starter
Battery life is decent, when tested with FutureMark's PowerMark benchmark I got 3 hours 26 minutes out of it under the Balanced test; 2 hours 47 minutes from the Entertainment test; and a very impressive 5 hours 13 minutes from the Productivity test. You should get more in the real world.
Dell has chosen to give the XPS 13 a mini DisplayPort output instead of the much more useful HDMI. Just to rub it in, it's an additional £20 for either a mini DP to DVD-D adaptor, or mini DP to HDMI. Nice. To go with this odd choice of port there are just two USB ports - one 2.0, one 3.0 - and a headphone output. That's your lot - there's not even an SD card slot or an Ethernet port.

Verdict
Dell might have been late to the Ultrabook party, but the XPS 13 certainly makes a head-turning entrance with its superb design. It's not faultless by any means - connectivity is limited, and it would have been nice to see a higher resolution screen - especially with the price tag it carries, but it's an impressive, speedy first attempt at the genre. ®
More Notebook Reviews

Lenovo
IdeaPad
U300s
Toshiba
Portégé
Z830-10N
Asus
Zenbook
UX21E
Samsung
Series 7
Chronos 700Z5A
Acer
Aspire S3
Ultrabook
Sponsored: How to simplify data protection on Amazon Web Services

Dell XPS 13 Ultrabook
Dell enters the Ultrabook party with an impressive 13.3-incher.