Panasonic touts monster 8k by 4k 'flickerless' plasma
145in big enough for ya?
Panasonic has revealed it will produce a 145in plasma screen with a resolution of 7680 x 4320, the world's first 8k display not to require a backlight, apparently.
The Super Hi-Vision project - detailed on the Panasonic press site, but hidden behind a password to keep the great unwashed and bloggers out, and let real journos in - is a collaboration with Japanese broadcasting company NHK.
Panasonic was keen to stress that the pair have come up with new tech that inhibits the flickering plasma screens show when their resolution is increased this far.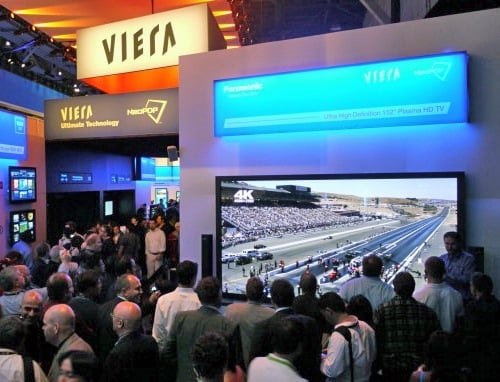 Panasonic's 152in PDP demo'd at CES in 2010
While images of the display have yet to materialise, the company is no stranger to supersize screens, launching a 152in 4k by 2k 3D plasma in 2010. ®
Sponsored: How to Process, Wrangle, Analyze and Visualize your Data with Three Complementary Tools