Murdoch junior admits to a culture of 'cavalier risk' at NotW
Did 'swashbuckling attitude' damage reputation of former Sunday redtop?
James Murdoch – unlike his father Rupert – told the Leveson inquiry into press ethics this morning that he only read News International's now-defunct Sunday paper, News of the World, "from time to time".
Ex-News International chairman Murdoch junior, who appeared to give his testimony at the Royal Courts of Justice in London today, also reasserted his lack of awareness of alleged widespread phone-hacking at the firm's 168-year-old Sunday redtop, which was axed by NI in July 2011.
He was asked repeatedly if he understood the link between the legal and ethical risks to the larger business when his organisation claimed that one "rogue reporter" had been responsible for hiring a private investigator to hack into mobile voicemails of individuals whose stories appeared in the newspaper.
James Murdoch agreed that "legal risk plays into" the corporate reputation of a business. He added that "extensive training had gone on... particularly in light of the voicemail interception in 2006."
He further claimed that under his tenure at NI, beginning in 2007, that Murdoch junior had "met regularly with internal audit people on compliance issues." He added: "I encouraged them to be transparent."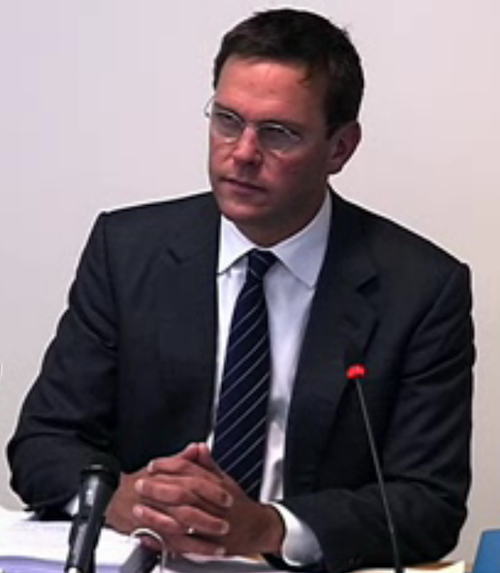 But he also once again signalled having little knowledge of how the Murdoch empire's newspaper business in the UK was being managed.
He said that the ethical risk "was in the hands of the editor... public interest and the like.
"I wasn't in the business of deciding what was put into the newspapers," he added.
When asked if "the ends had justified the means" when it came to the Sunday tabloid taking risks, Murdoch said: "No. The way we do business is part and parcel of the connection we have with our customers... The profitability of the NotW didn't save it."
Murdoch pointed out that News International "was one of six companies reporting to me at the time".
He added that the "overall commercial strategy" of the biz was his main focus.
Murdoch junior was more reticent on the specific question of the so-called "For Neville" email that allegedly showed that Murdoch had indeed been informed in 2008 that phone hacking at the newspaper was more widespread than "one rogue reporter".
He claimed that, as far as the NOTW's former legal manager Tom Crone and former editor Colin Myler were concerned "it was in the best interest of the business not to have this matter dug up again and dragged through the court... more in the spirit of an issue that happened in the past and we didn't want to go there again."
When asked if the News of the World possessed a "swashbuckling attitude to risk" that was "inherent in its brand", Murdoch junior agreed.
"Knowing what we know now, it must have been cavalier about risk and something of which we have huge regret."
At the start of April, James Murdoch – who earlier this year quit his dad's newspaper biz – confirmed he was stepping down from his role as BSkyB chairman.
News Corp, the parent company of News International run by media mogul Rupert Murdoch, currently owns 39 per cent of BSkyB.
James Murdoch remains as a non-exec director at the broadcaster. He is currently being quizzed by the Leveson inquiry on BSkyB's relationship with consecutive British governments.
His witness statement is here [PDF]. Rupert Murdoch will testify to the inquiry tomorrow. ®
Sponsored: Detecting cyber attacks as a small to medium business