A history of HUS: HDS's file-development hustle
NAS replacement issues ...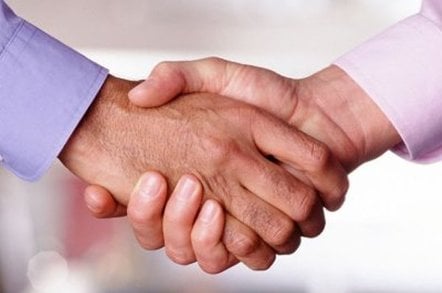 Hitachi Data Storage's new unified storage – HUS – has had an involved file storage background, according to channel sources.
In the post-millennium years, HDS had its AMS2000 (Hitachi model name: DF600F) mid-range block array and Essential NAS (eNAS) filer. Back in 2010/2011, our source says, Hitachi in Japan was going to replace the AMS with Hitachi Unified Storage (HUS) and have an eNAS front-end layered on it to provide NAS access – with HUS as the storage array behind eNAS, providing FC, FCOE and iSCSI block access. The eNAS front-end development codename was Arkansas.
Our channel insider says HUS – device model DF850 and codenamed Blackstone – was scheduled for a February 2012 release by Hitachi. So too was Arkansas, and most management UI integration between Arkansas and Blackstone was complete by autumn 2011.
However HDS (which sells all Hitachi storage products outside Japan) went and bought BlueArc in September 2011, after the two firms had a reseller relationship where HDS sold lots of BlueArc kit. The BlueArc product set became HNAS and was positioned above the Essential NAS product. There are three HNAS boxes: the 3200, 3090 and 3080.
In January 2012, we were told, HDS made a decision to kill Arkansas, dropping the eNAS front-end idea, and postponing Blackstone until more BlueArc integration could be done, integrating HUS and HNAS somehow.
Presumably the idea was to bolt an HNAS head on to HUS as a NAS front end with HUS drives providing both file and block storage. This has not come to fruition and you can, we are told, stick HNAS 3080 or 3090 NAS heads on top of HUS, in the same way that you can stick them as NAS heads on top of SMS and VSP.
Hitachi Japan did not kill eNAS. So now the HUS management interface Hitachi Command Suite HCS) has to support both the eNAS and HNAS (BlueArc) product. HCS has now become the single management facility for all of the HDS storage products. It is on a six-month release cadence.
HUS is being announced today, and we are told:
HUS and HNAS have different replication protocols;
HUS and HNAS have different snapshot mechanisms; and
HUS and HNAS have different configuration utilities.
The management software combination efforts have generated a link 'n' launch URL between the HUS management GUI and the HNAS Management GUI. There are efforts inside Hitachi to integrate the two management GUIs but there is no release data for any such unified HUS/HNAS management facility, our sources say.
HCP, HDS's Content Platform, which stores objects, can use either AMS or VSP as its storage vault and will be able to use HUS as well some time in 2012. However, there will be no deep or close HUS management and HCP management integration when that happens, and it will most likely come along later. ®
---
Bootnote
Hitachi mid-range array model numbers:
DF700s – WMS100/AMS200/AMS500/AMS1000
DF800 – AMS2100/AMS2300/AMS2500
DF850 – HUS110/HUS130/HUS150
Sponsored: Becoming a Pragmatic Security Leader