XtremIO buy to spark flash array startup-gobbling frenzy
EMC's portfolio gap-filler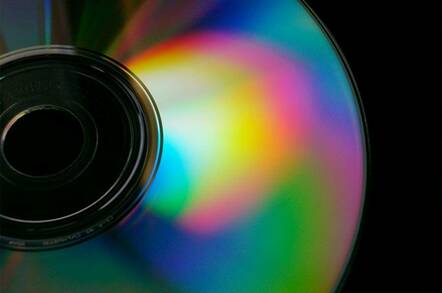 We're being told by people close to the action that EMC is buying XtremIO for its peer-to-peer, shared, scale-out flash array technology.
Research analyst Andrew Nowinski from Piper Jaffray has positioned XtremIO diagrammatically in the EMC product space, showing how it fills a gap in EMC's storage product portfolio at the top end of both the performance and capacity optimisation spectra – capacity-optimised because it uses inline deduplication and thin provisioning.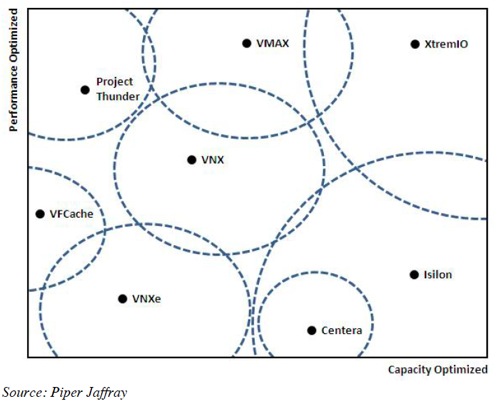 XtremIO positioned in EMC's product space
Scott Dietzen, the CEO of start-up Pure Storage, has blogged about the impact of this acquisition, writing that XtremIO product is for ultra high-performance tier 0 applications, whereas Pure's coming product is for Tier 1 high performance enterprise applications:
Flash requires a new array architecture... Arguably the leader in flash-retrofitting, EMC, is now potentially voting with their check book and acquiring a new platform for flash delivery, XtremIO... XtremIO, from the little anyone knows about it (XtremIO is pre-GA and still in stealth mode), is a technology created very much in the same mould as Thunder: high performance, 1M+ IOPS, SLC flash, and geared for the high-end of the market.
We understand that XtremIO's technologies take advantage of flash's ability to race through random IO whilst keeping writes to a minimum. With EMC's financial firepower and the availability of alternate acquisition targets, such as Pure Storage and Violin Memory, it's likely that any NetApp initiative in trying to bid for XtremIO will fade away. The same goes for any alternate bidder such as Cisco, Dell, HP and IBM.
Attendees at EMC World next month in Las Vegas can start looking forward to the idea of meeting XtremIO execs and learning all about the technology. ®