Intel to ship 30 MILLION Ultrabooks in 2012 - report
Chipzilla's target is 40 per cent of consumer notebooks by end of year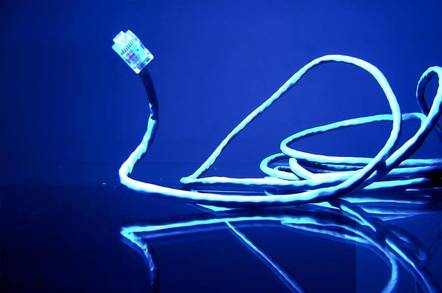 Intel has reportedly estimated that Ultrabook shipments will not exceed 30 million in 2012, a figure which could be some way lower than the one bandied about by CEO Paul Otellini, who predicted that 40 per cent of consumer notebooks would be Ultrabooks by the end of the year.
The reports admittedly came from the rather dubious "sources from the upstream supply chain" who told Digitimes that Chipzilla's internal estimates are for shipments of 20-30m in 2012, followed by two or even three times that in 2013.
The report went on to claim that Intel is working with upstream manufacturers to ensure that plastic chassis some are building meet the Ultrabook standards for sturdiness and quality.
When asked to confirm the figure of 20-30m, Intel offered The Register the following canned statement:
We've set ambitious goals, and we're thrilled with the reception to Ultrabook devices so far. There's already been a lot of enthusiasm around the category and this is just the beginning for Ultrabook – we're just getting started. Our goal is to work with the industry to transform personal computing by delivering a single device that offers the most complete, satisfying, no-compromise and more secure experience in sleek, beautiful designs.
A spokesman also confirmed the chip giant's aggressive 2012 targets for the category, which were repeated by Otellini on a conference call in January.
"The goal we stated at Computex 2011 was specific to shifting 40 per cent of the global consumer notebook market segment to Ultrabook systems by the end of 2012," he told The Reg.
"As I said, we've set ambitious goals, and we're thrilled with the reception to Ultrabook devices so far."
To drill down a bit into that figure, IDC said it is expecting 147m consumer notebooks to be shipped in 2012. Now, 40 per cent of that figure is 58.8m – significantly higher than the 30m which Digitimes is saying the chip giant is now predicting.
However, crucially, Intel is saying the 40 per cent target applies only to the end of 2012, not for the entire year, which makes comparisons with the Digitimes report more problematic.
In any case, IDC vice president Bryan Ma told The Reg that the figures mentioned by the Digitimes sources chime pretty much with the 25 million Ultrabook units the analyst is predicting will be shipped this year.
"We do have a more aggressive scenario of 37 million shipments, but price point is key here," he added.
"Prices have hovered around $999, which is a challenge. Now, though, we're seeing some vendors announcing plans to deploy Ultrabooks at around the $699 price point which pushes us towards that more aggressive scenario."
Storage will be key in helping vendors to push prices down, Ma argued.
More vendors are looking at dual drive machines using magnetic storage and flash to reduce costs while still providing the fast start-up time required by Intel for its Ultrabooks, he said.
®