HTC One S Android smartphone
Meet the bridesmaid
Review Playing Tonto to the One X's Lone Ranger in HTC's new model line-up is the One S. I'll get to Silver, the One V, when it arrives in a few weeks. For now though, we can see if HTC's much vaunted One series makes sense from a technical, as well as a marketing perspective.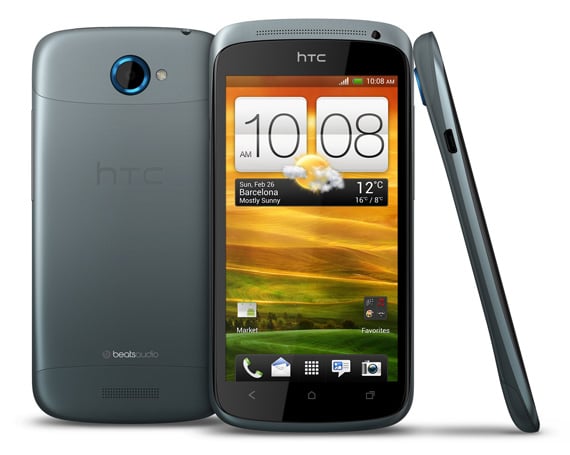 Tonto's talker: HTC's One S
In all areas, the One S is slightly less than the One X. The CPU has two cores rather than four, the screen has 540 x 960 pixels rather than 720 x 1280 and it measures 4.3 rather than 4.7in corner-to-corner. The battery is also slightly less muscular at 1650mAh though no less fixed.
Of course, the reverse of that coin is that the One S is smaller and lighter than the X. In fact at under 120g and less than 8mm thick, it's breathing down the neck of the Motorola Razr in the thin'n'light stakes.
In terms of design the S and X are very similar the main difference being the aluminium unibody with its ever so slightly crystalline finish and the removable end cap which conceals the SIM slot.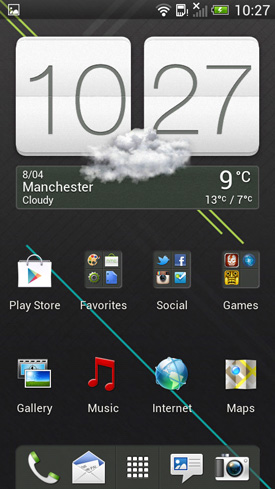 Lock screen weather display and Sense 4.0 home screen
The smaller screen shouldn't be seen as a drawback. In my opinion 4.3in is the sweet spot for a smartphone and the 256dpi pixel density count is more than adequate. Being an AMOLED panel, blacks look properly black while the other colours pop out at you.
Powering the S is Qualcomm's new 1.5GHz dual-core Snapdragon chip and the user experience it delivers is pretty much identical to the quad-core Tegra 3 rig in the One X. Like the One X and the Razr, the S has a full 1GB of RAM so everything moves with a creamy smoothness, no matter how many apps are running.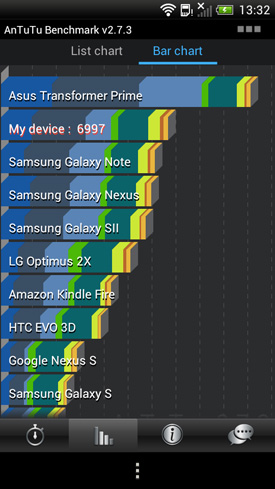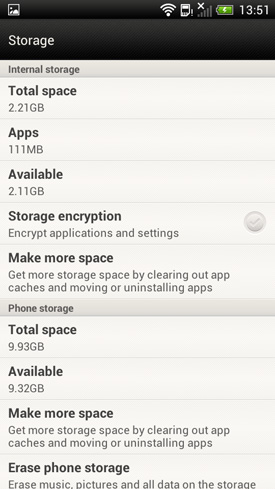 AnTuTu score and less than 10GB free for files and no SD slot either
Run the AnTuTu benchmark app and you get a score of around 7,000. That's a lot lower than the 10,500 figure produced by the One X but still the best part of a thousand points above the Galaxy Nexus or Razr. More importantly, the S will still play 1080p video smoothly. In fact the difference in performance between the One S and the One X is the same as that between being mauled by a cheetah and a grizzly bear. You end up just as dead.