WD lets loose ferocious 1TB VelociRaptor
Doubled-capacity drive-maker tears into weak flash hybrids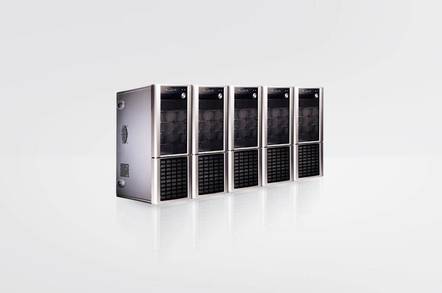 WD has boosted the capacity of its 10K VelociRaptor disk drive, jumping to a 1TB capacity from the current 600GB.
Otherwise it's the mixture as before: 10,000rpm and a 6Gbit/s SATA interface, but with a cache doubled to 64MB. There is the same IcePack 3.5-inch mounting frame/heat sink. The capacity points are 250GB, 500GB and 1TB, and the drive uses less power in idle mode than the previous generation.
This is still the fastest SATA hard disk drive and it's almost exactly a year since WD introduced the 600GB version. The 10K speed and 3.5-inch IcePack mounting frame means it fits in a 3.5-inch drive bay and undercuts 15,000rpm drives like Seagate's 600GB Cheetah while holding more data.
Seagate has its 10K Savvio 2.5-inch drive, which holds 900GB on three platters in its 10K.5 iteration. It's an enterprise-class drive with a 2 million hour MTBF compared to the Velociraptor's 1.4 million hours. This Savvio was introduced a year ago and we might expect Seagate to upgrade it to higher capacity points later this year.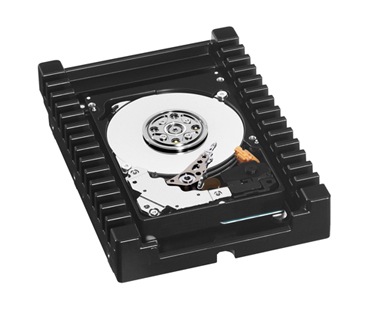 The 6th generation VelociRaptor in its IcePack mount
In its press release, WD took a glorious poke at flash-enhanced hybrid disk drives, like Seagate's 7,200rpm Momentus XT, saying: "write-intensive applications that manage large, dynamic files; for example, video editing and digital content creation and management ... ultimately put a strain on storage devices that utilise write-challenged NAND memory for performance enhancement."
An enjoyable dig, but we all just know that WD is going to bring out its own hybrid drive soon enough. Imagine a hybrid Velociraptor; it would deliver read data in an instant, and still write data faster than any old 7.2K drive.
These sixth-generation VelociRaptors are available now with a five-year warranty. The Manufacturer's Suggested Retail Price for the 1TB model is $319.99 (£200). It's $209.99 (£131) for 500GB and $159.99 (£100) for 250GB. ®