El Reg hurls EMC onto the rack, drills into VSPEX
Channel, software questions answered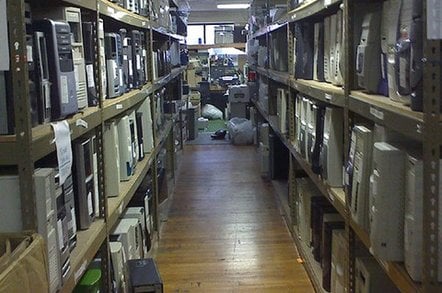 On Thursday EMC announced its new stackable and modular server box templates called VSPEX - a piece of kit that raised more questions than a particularly fast-paced edition of University Challenge. Your humble El Reg hack's subsequent Q&A with an EMC bod, published here, reveals among other odds and sods software availability and how the channel can take advantage of the kit.
El Reg: Which servers from Cisco and Intel are supported? We imagine they're rack-mount servers using Xeon E5-2660 processors.
EMC: We qualified as far back as Nehalem in order to ensure that customers could get a good user experience even if they choose to leverage existing servers in their environment, but most of the new servers that our partners are bringing to market with VSPEX are Sandy Bridge.
El Reg: Which networking products and technologies and protocols from Cisco and Brocade are supported?
EMC: EMC's VNX line is fully unified so customers have a choice of protocols.  As part of the reference architectures we are releasing at launch we have focused on NFS, CIFS (for Windows file shares) and Fibre Channel and iSCSI in some cases. Our networking partners have worked with us to select the optimum IP and Fibre Channel SAN components for each stack.
El Reg: Which EMC storage products are supported?
EMC: At launch VSPEX is built on EMC's VNX and VNXe unified storage systems (as well as Avamar and DataDomain next-generation backup products). It also leverages EMC's data deduplication, compression and fully automated storage tiering (FAST) technologies. Depending on the customer and market demands we will include the appropriate product from our portfolio that increases the simplicity, efficiency and flexibility in the customer environment.
El Reg: Any more detail on included/supported apps from Oracle, Microsoft and SAP?
EMC: EMC will deliver on a roadmap of application solutions such as those from Oracle, SAP, SharePoint and Exchange using VSPEX and the deployment platforms.  This layered approach allows us to have a modular application and infrastructure solution that our partners can quickly and easily deliver to their end users.
El Reg: What about management software?
VEMC: SPEX is based on hypervisors and virtualization layers from Microsoft and VMware. EMC has tight integrations into management frameworks with VMware around vCenter Operations and HyperV around system centre. Customers can choose to manage their VSPEX using either of these frameworks. In addition channel partners can customise their version of VSPEX by adding their own management solution as a differentiator.
You will see us create more integration with other management packages as we move forward to enable full orchestration.
El Reg: What are VSPEX Labs and where are they?
EMC: As part of the VSPEX program, partners have access to the VSPEX Labs which provide them with a cloud infrastructure to test, validate and demonstrate new VSPEX configurations. For our channel it's a great opportunity to leverage the intellectual property of EMC and its technology partners and deliver ONE tested, pre-validated, flexible and efficient solution.
In addition, distribution partners and alliance partners are building their own versions of VSPEX Labs that will help scale the validation process.
El Reg: Can partners choose branding for server and networking components in VSPEX themselves?
EMC: There are several ways channel partners can differentiate their solutions relative to other distributors solutions including co-branding, solution specific combinations, application integration, and service specific offerings.
VSPEX offers customers a way to expedite time to value by working with channel partners to deploy proven and pre-validated solutions while preserving the flexibility to pick the right components for their infrastructure.
El Reg: Why "unprecedented flexibility" in customer deployments? Partners could previously build systems using EMC components and that would be more flexible.
EMC: Working with our partners and customers, and drawing upon our rich heritage in proven solutions and best practices, we identified an opportunity to provide significant value to customers through a range of pre-validated or proven virtualised infrastructure solutions that represent a new generation of reference architectures.
VSPEX offers customers the choice and flexibility to pick and choose the right components for their infrastructure, built and delivered by partners of their choice. Because VSPEX solutions are tested and pre-validated, customers can deploy the solutions more rapidly and accelerate their journey to the cloud.
El Reg: Can additional applications be added by partners and validated in VSPEX Labs?
EMC: VSPEX Labs are open for partners interested in validating value-added and application specific infrastructures. The partner can leverage VSPEX validation labs to test and validate their proposed solution architectures.
Brocade VSPEX info
Brocade has announced VSPEX customers have the ability to choose from the following Brocade networking products:
ICX switches: Two models are included in VSPEX configurations for up to 100 VMs; the ICX 6450 and the ICX 6610, providing up to 48 ports of 1Gbit/s and 10Gbit/s Ethernet connectivity.
VDX switches: For VSPEX virtualisation and VDI solutions that scale up to 250 VMs and up to 2,000 virtual desktops, the VDX 6720 switch is available in 1U and 2U models with up to 60 x 10Gbit/s Ethernet ports. The VDX 6710 switch features 48 x 1Gbit/s Ethernet ports and 6 x 10Gbit/s Ethernet ports in a 1U design.
6510 Fibre Channel switches: Providing Fibre Channel connectivity for up to 250 VMs and up to 2,000 virtual desktops. The 6510 offers 16Gbit/s and is configurable up to 48 ports in a 1U enclosure.
VSPEX solutions will be integrated and available via the authorised Brocade Alliance Partner Network (APN) as well as EMC's network of Velocity partners.
Brocade has some programs to help and reward resellers to sell of VSPEX kit, such as discounts on demo units, extra percentage points for deal registration to protect partner opportunities, and specialised Brocade Rewards bonuses. There's a video here with Brocade's Barbara Spicek and EMC's Fred Kohout discussing VSPEX and the channel. ®
Sponsored: Detecting cyber attacks as a small to medium business