Renault Twizy budget e-car
Get your knickers in a Twizy
Fun, fun, fun in the sun, sun, sun
The steering is very direct, with no power assistance getting in the way. The turning circle is an impressively tight 3.4 metres, and visibility superb which makes for top-notch urban manoeuvrability.
In fact, the only dynamic criticism I have is the ride, which is just a bit harsh over rough surfaces. I can imagine this becoming a chore on the cobbled rues and callés of Paris or Madrid, but that's the price you pay for the Renaultsport-tuned chassis and the fun factor. It's a price I would gladly pay.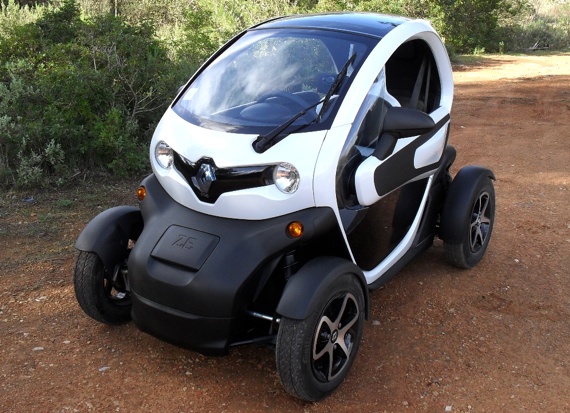 Looks - and feels - more like a car than a quadbike...
The electric motor is a bit loud, no doubt down the almost total lack of sound insulation and doors. But it's a sound I rather like. It reminds me of a TIE Fighter.
Inside - well, as inside as it's possible to be in something where the in and the out are divided by perception rather than steel - everything is well appointed if basic. To make it go, you just turn it on, press the D-for-drive button - or R-for-reverse if you want to go backwards - push the throttle pedal and off you go.
The dash consists of a simple LCD display that shows your speed, remaining range - Renault say the maximum is 100km or 62 miles - and how hard the motor is working. Take your foot off the gas and the latter gauge changes to show the regenerative braking feed.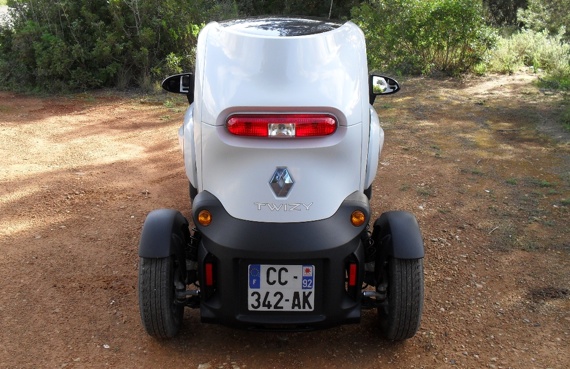 ...but still a bit 'invalid carriage' from the back
How close to the money are Renault's range estimates? One the first test day I drove like a maniac and only got 52km (32 miles) from a charge. On the second day, I put my sensible hat on and was looking at a projected 85km (53 miles) when I handed the keys back at Ibiza airport.
There's no fast-charge option, but with only a 6.1kWh battery charging the Twizy from a 13A socket isn't that big a faff. Unless you run it absolutely flat, a two-hour charge should top it right up.
To provide the driver with some degree of protection there is a simple beam in place of a door which opens forwards, scissor-fashion on a pivot on the A-pillar. A transparent plastic panel fills the gap below the beam to keep spray and small animals out of the cabin.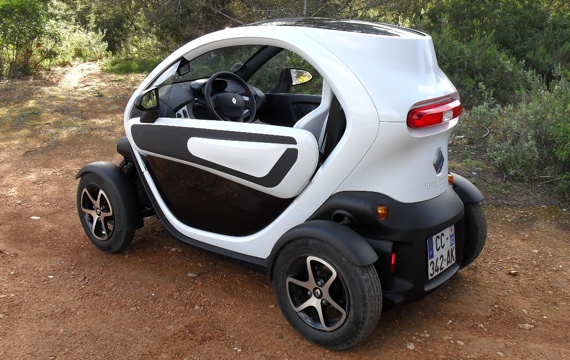 There's a posh model with alloy wheels, too
The space above the beam is open no matter what the weather, hence the functional interior trim which has to be weather proof. So, no carpets or leather, and drainage holes in the floor and seat. There's no heating system either, a clear nod to the Twizy's warmer clime target market.