StorSimple in swerve towards biz data
Clouds hang around new boxes' back ends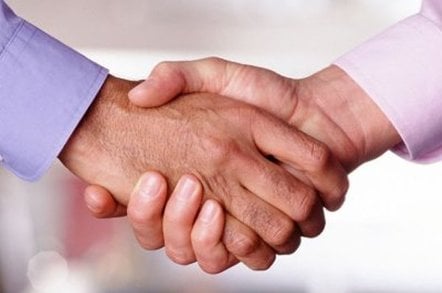 Cloud storage gateway appliance StorSimple has changed direction, replaced its marketing head, and refreshed its product line.
Originally StorSimple targeted specific applications such as SharePoint and Exchange for its iSCSI-accessed 5010 and 7010 appliances. They stored the app's working set in a combined SLC flash and 10K SAS disk store, which was thinly provisioned and deduplicated, and sent other, bulk, data off to the cloud using WAN-optimised transmission.
Now the company, according to Marc Farley, its Senior Director of Communities and Customer Programs, has recognised its customers want it for broader storage requirements and it needs to market its storage to enterprises and not just to app users. Consequently chief marketing officer Ian Howells has left and recently been replaced by Bridget Warwick, previously VP for NAS marketing and business development at Hitachi Data Systems, having joined HDS through its BlueArc acquisition.
StorSimple thinks "Fortune 1000 enterprises across verticals like retail, oil and gas, manufacturing, services, consumer goods, healthcare, and banking as well as government customers have done their first storage deployments on public clouds." What they need is to have enterprise-class infrastructure and processes.
The StorSimple idea is customers get primary data storage on their local appliance, with nearline, archive, backup and disaster recovery provided through seamless integration with the cloud. Inactive data and snapshots are sent off to the cloud; it being, in effect, just another tier of storage. Data is stored in the cloud in application-level format and not in backup data format.
Ursheet Parikh, StorSimples co-founder and CEO, said: "For [enterprise] customers, the choice comes down to continuing status quo or working to leverage the cloud, and this disruption has led to the emergence of the cloud-integrated enterprise storage market segment;" StorSimple's product in other words, which is being updated to provide more local capacity and faster performance.
The 2U 5010 (2.5TB raw capacity) and 7010 (5TB raw) appliances are being replaced with a 4-product lineup, accelerated with NVRAM, and version 2 of the operating software:
- 5020 with 2TB of raw capacity
- 7020 - 4TB
- 5520 - 10TB
- 7520 - 20TB in a 4U enclosure
Assuming a 5:1 deduplication ratio the 7520 offers up to 100 effective terabytes of local storage. The controllers with NVRAM and the optimised operating system software "offer an order of magnitude performance increase over previous versions." Software optimisation includes better exploitation of APIs and more parallel operations.
StorSimple claims it can restore up to 100TB/day from the cloud to a single StorSimple appliance over a 50Mbit/s WAN link. It says "traditional cloud-based backup would take over 90 days to restore 100TB of data, while using twice the bandwidth (100Mbit/s)." This, Farley says, makes DR affordable and practical for customers who could never have afforded it before.
Disaster recovery has been improved; StorSimple appliances can now store complete sets of data across two different cloud providers or regional locations using a CloudClone feature. Cloud service provider support has expanded to include Google, HP, Rackspace and Amazon's Reduced Redundancy Storage (RRS).
It might be possible in the future to have an automated migration from one cloud service to another.
The 5020 and 7020 have achieved VMware Ready certification. The 5520 and 7520 are expected to achieve it by June this year. All four new appliances are available immediately, with pricing starting at $40,000. ®
Sponsored: Becoming a Pragmatic Security Leader