Aliens Blu-ray disc set
They mostly come out at night. Mostly.
Against the grain?
The only problem is that Blu-ray reveals how grainy the movie's visuals actually are. According to James Cameron, this was the standard quality film offered by Kodak when you were shooting in 1.85:1 (16:9) in the mid-80s. Apparently he was worried that anamorphic widescreen lenses caused distortions that would play havoc with Aliens' surprisingly low-budget, pre-digital special effects.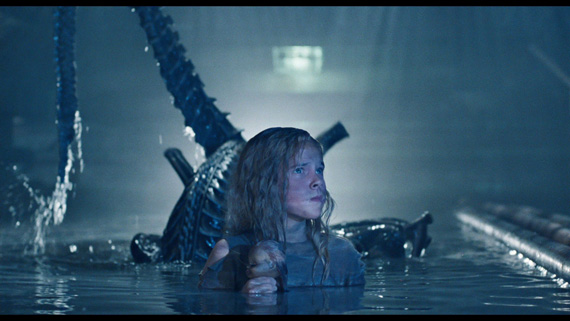 Years ago, someone flushed their bagpipes down the loo, and now look
Besides, Cameron apparently took great pains to "maintain consistency" with the first film (i.e. slavishly copy Ridley Scott) by filling every scene with flickering lights, rain and smoke. Now, thanks to Blu-ray, you can admire high-definition smoke as the handheld camera whirls sickeningly around every fight scene.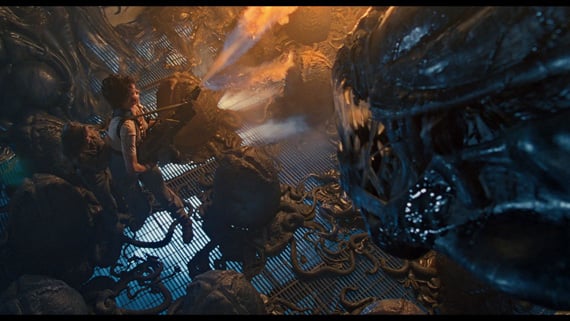 Incubating eggs, Ripley-style: Mum's not too happy
Of much more worthy note is the DTS-HD Master Audio 5.1. It's easy to forget that much of Aliens was filmed in low-budget sets and in front of back-projections with two crews working simultaneously at break-neck speed on adjacent stages at Pinewood. Surely, one reason for your brain fooling you into thinking you're watching terrifying creatures – rather than tall stuntmen in rubber suits – is the very high quality of the soundtrack.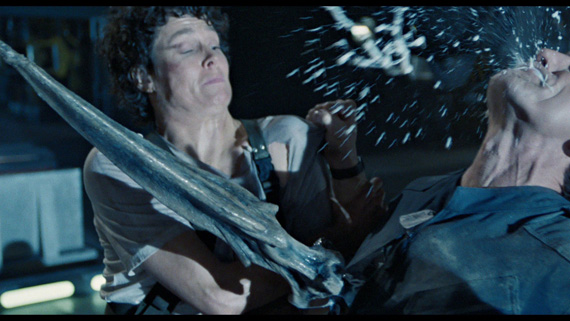 I think there was a bone in that haddock
The whole atmosphere generated by the Aliens audio in my living room reminds me of the first time I played Quake while wearing headphones in the middle of the night. Some of you must know what I'm talking about: the reverberation in open spaces, the close warmth in small spaces, and the clanking of chains from around the next corner. Despite the movie's reputation for its visual fireworks, it's actually a relentless audio rollercoaster too.
This is reflected in the two Academy Awards that the film actually won in 1986: Sound Effect Editing and Visual Effects.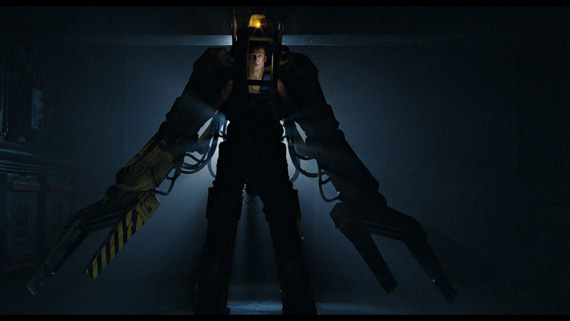 Get away from her, you bitch. Scratch your eyes out, I will
Less impressive is the package of extras slung on to the disc. Assuming you can work out how to navigate the atrocious user interface, you can choose to listen to the composer's original score (i.e. one that doesn't work well with the film), watch three 'deleted scenes' (i.e the ones already put back in to the Special Edition) and enable a commentary with Cameron, cast and crew taken from an old DVD release (it is almost ten years old).
Ooh and there's a 30-second introduction to the Special Edition by James Cameron, in which he says you are about to watch the Special Edition. Well burn my arse off with a blowtorch, this is as underwhelming as it gets.
Verdict
Justified though I feel about dissing the extras, I'm satisfied with the price of this no-frills package. At the time of writing, Amazon was selling it for a little over £11. For that, you get a blue box with a disc in it, no booklet, no stickers or figurines, and not even any text printed on the inside. Oh, and of course you get a damn good sci-fi action movie with a crackling script and a curiously powerful sub-theme about the bond between mother and child. Alternatively, you could just wait until it next gets shown on Freeview HD, but doesn't your home cinema deserve better audio? ®
More Blu-ray Movie Reviews…

Akira remastered
Blu-ray disc set
Star Wars:
The Complete Saga
Blu-ray disc set
Jurassic Park
Ultimate Trilogy
Blu-ray disc set
The Lord of the Rings Trilogy
Extended Edition
Blu-ray disc set
Tron: Legacy
3D Blu-ray disc set
Sponsored: Webcast: Build the next generation of your business in the public cloud

Aliens Blu-ray disc set
Aliens theatrical release and special edition Blu-ray disc set.