Publisher hails CS Lewis 'space trilogy' e-book debut
Forgets it had already released it over here
Fans of CS Lewis' other sequence of novels - the 'Perelandra' trilogy, not all that stuff with furniture and leonine Christ metaphors - will be pleased to hear they're now out in e-book form.
Almost 50 years after Lewis' death, in 1963, Out of the Silent Planet, Perelandra and That Hideous Strength can be purchased from reputable online booksellers.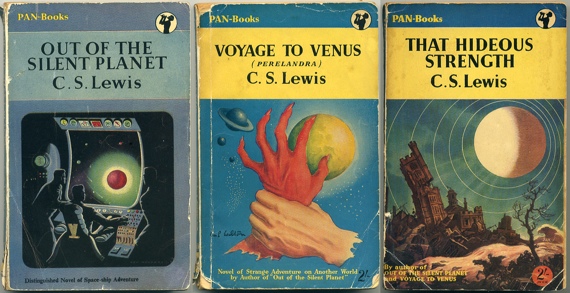 Source: Twisty Turny Lanes
The trilogy sees Dr. Elwin Ransom - a Cambridge boffin said to have been based on Lewis' Oxford colleague JRR Tolkien - whisked off to Mars - aka 'Malacandra' - by interplanetary pirates. There, he learns the true history of the Earth and fights to save the natives from the plunderers.
He does the same on Venus, known to its inhabitants as Perelandra, before fighting for Earth's salvation using romantic mysticism to overcome de-humanised science.
HarperCollins - prop. R Murdoch - claimed the release marks the trilogy's appearance "in e-book format for the first time in English". Not true - the publisher's UK wing put the e-books out in December 2010, a trip to Amazon.co.uk reveals.
The fact that HarperCollins publishes the books in the US and the UK just goes to show how bonkers media markets are when they prevent Brits buying e-books from the US, and Americans from buying e-books available here. ®
Bootnote
Commentards are currently discussing their favourite Sci-Fi books at El Reg Forums. Join in!
Sponsored: Detecting cyber attacks as a small to medium business