Success-hungry Valley needs code, not cash
When a VC's A round 'ain't enough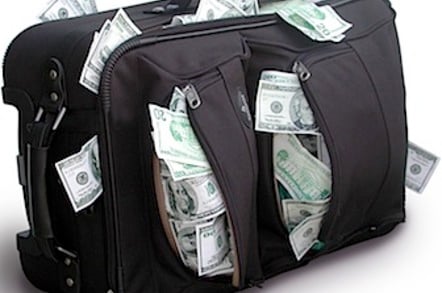 Open... and Shut When someone makes the bold claim that 90 per cent of the startups TechCrunch hypes are dead and buried within six months, you'd expect Silicon Valley to be in uproar. Surprisingly, though, the collective response seems to be, "Sounds about right." While I don't think the data support the claim, it is true that a large percentage of technology start ups fail.
The question is why? And is there anything we can do about it?
To the first question, the Startup Genome project has been tracking over 3,200 Silicon Valley start ups since early 2011, trying to determine the attributes that lead to success or failure. The biggest cause of failure? More than 70 per cent of failed start ups couldn't make the grade because they scaled prematurely, meaning that they tried to grow their business before the fundamentals (such as product, user base or community) were in place to support it.
The report that has emerged from the project is fascinating in that it unwittingly challenges one of the fundamental creeds of Silicon Valley: venture capital is good.
In fact, the report suggests: "Many investors invest two to three times more capital than necessary in start ups that haven't reached problem solution fit yet." The report further notes that these investors "also over-invest in solo founders and founding teams without technical co-founders despite indicators that show that these teams have a much lower probability of success."
In other words, venture capital - at least too early - can have a negative effect on a business by obscuring correct objectives and by encouraging the hiring of the wrong sort of early employees. That could mean, for example, instead of focusing on tweaking the product to make it "sell itself" entrepreneurs hire sales teams to force feed the unfinished product on the market.
Early investors may also inhibit a founding team's willingness or ability to pivot, which the report finds to be a very healthy element of successful start ups. As the report finds, "Start ups that pivot once or twice times... have 3.6x better user growth and are 52 per cent less likely to scale prematurely than start ups that pivot more than two times or not at all."
None of which is to suggest that venture capital is Evil. On the contrary, some of my best friends and most helpful advisors to the companies for which I've worked are venture capitalists. But it does call into question the optimal timing to seek venture funding.
All of which leads me back to a chairlift conversation I had with Nitobi founder Andre Charland, who sold Nitobi (the PhoneGap company) to Adobe for an undisclosed sum. Charland, who never raised venture capital, told me that he felt open-source companies, in particular, should bootstrap themselves through consulting and support services. As he argued, this helps to keep the company responsive to its community and also serves to fund product development.
Not everyone, however, is a fan.
When I tweeted Charland's comment, Greylock VC John Lilly (who used to be chief executive at the Mozilla Foundation, so he knows a thing or two about open source and the importance of community) was quick to question the wisdom of a slow-growth consulting approach:
.@mjasay not obvious at all to me. Examples? Counter examples? I think there are many examples of each. So think its more about the company

— John Lilly (@johnolilly) March 22, 2012
Lilly's point is sound, despite the obvious examples of SpringSource and JBoss, both of which grew to well over $10m in revenues before seeking venture capital. After all, while JBoss took the VC-free route early on, Alfresco, Cloudera and other open-source companies took venture money early, and to very positive effect.
Indeed, SpringSource founder Rod Johnson jumped into the conversation, arguing that you have to balance a bootstrap approach against the venture route, given the perils in each:
@nickw249 @mjasay @johnolilly Yes, when you have too little $ you live month to month and it's hard to create deep technology

— Rod Johnson (@springrod) March 23, 2012
Raise too little, and it's hard to invest in technology. Raise too much, and you're likely to scale prematurely. Damned if you do, damned if you don't.
Again, in my experience it's a matter of timing. A narrow class of start up should raise a ton of money from the start, because it creates all sorts of harmful temptations to scale in unhelpful ways. If you're building a spaceship, you're going to need a lot of money. If you're building a service that allows people to save money toward future purchases - with some social mechanics thrown in to help them save - you don't need much more than a developer (probably you) to build the service and host it on Amazon.
Ultimately, the thing that matters most, whether you're starting from an open-source project or a software-as-a-service-based product, is something that people really, really like to use. This means a technical founding team with perhaps one business-minded person to do things like field sales inquiries and establish partnerships. Once there's a reasonable amount of inbound sales traction, then you raise money.
Which probably means you don't need a traditional seed or A round at all. And those pointy-haired bosses you dread having to deal with? You can put that off a few years, too.
In short, developers just need to develop. The better the project, the less likely you'll need to raise venture capital early, or possibly at all. Many will prefer to live a healthy lifestyle of consulting services. For those that want to swing for the fences, VCs have a way of finding successful products. You really don't need to go seeking them out. Not early on. ®
Matt Asay is senior vice president of business development at Nodeable, offering systems management for managing and analysing cloud-based data. He was formerly SVP of biz dev at HTML5 start-up Strobe and chief operating officer of Ubuntu commercial operation Canonical. With more than a decade spent in open source, Asay served as Alfresco's general manager for the Americas and vice president of business development, and he helped put Novell on its open source track. Asay is an emeritus board member of the Open Source Initiative (OSI). His column, Open...and Shut, appears three times a week on The Register.