Steve Jobs' death clears way for Ashton Kutcher's role of a lifetime
But WHO will play Ballmer?
Foursquare investor, Twitter personality, Rihanna love-interest and actor Ashton Kutcher has been chosen to play Steve Jobs in an upcoming biopic film - titled Jobs.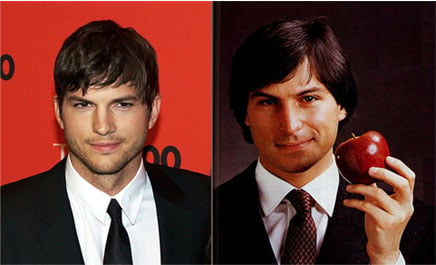 They both have brown eyes, an interest in tech, and are associated with small social networks (cough, cough, Ping) - but the uncanny resemblance is probably what clinched it.
Kutcher, 34, who is a significant Silicon Valley angel investor (having pumped cash into trendy upstarts Path, Hipmunk and Flipboard) and self-professed technophile, has declared himself to be thrilled with the casting. Variety magazine broke the news last night in what was widely believed to be an April Fool but turned out to be God's own truth.
The film will be an indie documentary directed by Joshua Michael Stern, and will track Jobs from his barefoot LSD days flogging Steve Wozniak's kit to students, to his billionaire biz baron phase at the helm of the world's most profitable Foxconn-rebranding outfit.
Stern previously directed political comedy-drama Swing Vote, released 2008. ®
Bootnote
Acting out Steve's famous charisma will be a hard ask. But who will play Wozniak and Bill Gates? Rather than stuff the comments section with suggestions, why not turn to our new forums instead.