Ape sanctuary seeks funds for armed Robo Bonobo
And you can talk to the animals…
An ape sanctuary in the US has posted an unusual request on KickStarter, seeking funds to build a robot ape under its residents' control and to allow members of the public to talk to the primates.
The appeal was launched by Ken Schweller, head programmer for the Great Ape Trust in Des Moines, Iowa. The center is home to two orangutans and seven bonobos, including Kanzi, a remarkable 32-year old male bonobo who has learned to communicate via a pictographic keyboard using 384 words, make basic stone tools, and light fires to toast marshmallows. Kanzi's son Tico is also an avid iPad user.
"I want to capitalize on the bonobo's fascination with computers," Schweller explained in a video. "I want to build them mobile keyboards that they can carry around so that they can talk with us, we can talk with them – across the room, across the country, or perhaps just up a tree."
The trust is looking for $20,000 to cover the cost of writing a Bonobo Chat application, which would allow the group to have more control over their surroundings, such as by activating drinking fountains and watching films, and which could be used to let members of the public converse with the apes. Top-tier donors will be the first to try the communications functions.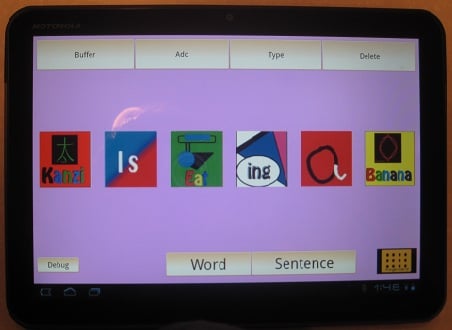 Kanzi's messages would be on a par with most Twitter users
The funds will also be used to build Robo Bonobo, a robot with a fake bonobo head on top, which can be controlled by the apes themselves and used to interact with visitors. The jolly bonobo boffins also want to attach a water pistol to it, for reasons unspecified, but in El Reg's opinion it's either because apes need a laugh as much as the next primate and/or we're seeing the beginnings of a robot army that will free our downtrodden genetic relatives.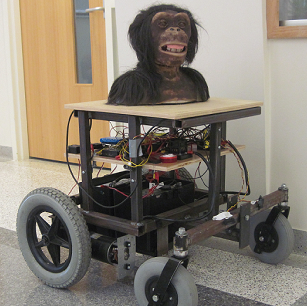 A prototype Robo Bonobo – we're safe so long as we have stairs
Then again, since we're dealing with bonobos, there's less reason to worry. The common chimpanzee (Pan troglodytes) lives in male-dominated warlike societies, which occasionally practice cannibalism. Bonobos (Pan paniscus), by contrast, are matriarchal societies noted for using sex (homosexual and heterosexual) rather than violence to resolve disputes and strengthen group cohesiveness – although they can become violent in captivity. ®