Whitehall's G-Cloud: Hype or hope?
Big-swinging reform or buzzword bingo?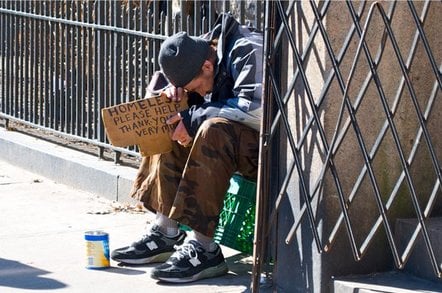 Special report According to the British government, the cloud will make everything better. The UK gov is rolling out something called G-Cloud, which according to No 10 means faster and more flexible IT procurement based on a list of open systems and approved standards. The punchline for the British taxpayer is that services will be delivered faster, at a reduced and a competitive rate.
To prove that the government gets "it" – "it" being the cloud – the minister whose department is driving G-Cloud, Francis Maude of the Cabinet Office, has even been to the west coast to press the flesh and meet those behind the interwebs.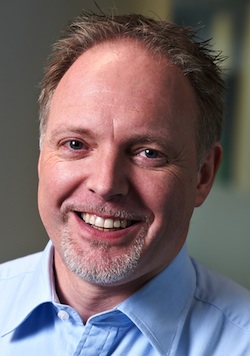 Microsoft's Ferrar: too much cloud fever?
There, Maude met some of the tech companies most closely associated with cloud. We're told he eschewed the usual stops at government suppliers such as Oracle for firms including Cloudera, which delivers Hadoop services; MongoDB specialist 10Gen; cloud infrastructure specialist Joyent; and eBay's PayPal.
But G-Cloud doesn't necessarily mean what you might think it does. Number 10 hasn't floated an Amazon-style or Salesforce-style platform for developing and hosting applications or crunching Google-licious workloads. Nor has it rolled out an Apple-style AppStore or Android marketplace that downloads paid apps to the smartphones and fondleslabs of the nation's citizens, civil servants, doctors and teachers.
What G-Cloud consists of – for now, at least – is two things: a way to approve and certify software, hardware and services from technology companies – from handsets and calling plans to hosted email and collaboration services, and something the government calls Cloudstore, which lists the services and the contact details of their suppliers.
As catalogues go, though, this isn't exactly the last word and it seems as if the government's done a first-rate job of going where so many others have been before – avoiding the pitfall of buying into the branding rather than the practice. Sure, everything looks cloudy: everything is nicely boxed away as a software-as-a-service (SaaS); an infrastructure-as-a-service (IaaS); a platform-as-a-service (PaaS); or as "specialist cloud services" – and you also get things like variations of Microsoft's Office 365 or IBM cloud migration services.
Beta-blocker
But plenty of services come with huge gaps where suppliers haven't bothered to fill in details or where the government says "service is waiting to be assured". Still, at least Cloudstore does say "beta" on it – a moniker that world+plus dog slapped on its site after it was popularised by Google with Gmail, and one which has since become a lot less trendy. Oh, dear.
The British government is notorious for bringing in big swinging policies that its incumbents claim will change absolutely everything: health, housing and education have been meddled with and pulled this way and that as intellectual fashions and those espousing them have swept through Westminster. The changes don't always work out.
When it came to supplying big services and infrastructure to government, remember how the Private Finance Initiative (PFI) was going to change things for the better? It has now fallen out of favour, having supposedly cost more than expected.
Is cloud the latest manifestation of the change-of-direction disease that afflicts British government? The move to the "cloud" is, of course, being driven by that most fickle and historically shortsighted of movements, far more bound to over-promise and under-deliver than politics: technology.
Francis Maude is the "ministerial face" of G-Cloud, but one of the people developing and selling government's digital change agenda is a rising star in the party jointly running the coalition government. Formerly a practicing techie, Liam Maxwell has provided advice that has shaped the ICT policy of the Conservative Party and, therefore, the government. His role is to "provide expertise on how government can use innovative new technology to deliver better, cheaper solutions."
Inside the Cabinet Office with him is Chris Chant, a career Whitehall techie who's argued for change in how IT is delivered in government. As G-Cloud Program director, Chant is charged with implementation; he is - for now at least - the right man in the right place at the right time.
Microsoft man talks about UK.gov's cloud project
I put the question of whether the government has swung too far on cloud to Mark Ferrar, national technology officer (NTO) for Microsoft – which made the G-Cloud cut. Ferrar is intermediary between UK's public sector and the world's largest supplier of software.
As NTO, Ferrar acts as Microsoft's "trusted advisor" to senior politicians, civil servants and those running health trusts and local authorities. Ferrar's job is not to sell the next versions of Windows but to talk strategically about where Microsoft is headed.
Ferrar does bring a certain customer qualification to the position. Before joining Microsoft in October 2010, Ferrar ran the technology office in charge of NHS IT infrastructure. As a member of the UK government's chief technology officer council, Ferrar worked on elements standards on re-use and data that are forming the basis of G-cloud.
He was also involved in the national programme for IT at the NHS, a classic example of the type of big-box and centralised strategy that G-Cloud is supposed to kill. It cost £12.7bn and was axed for a decentralised strategy to re-coup money.
So, does Ferrar think the UK government has cloud fever? "I think it's been a bold step in the right direction to explore a technology that could have been unavailable to the public sector," Ferrar told The Reg.
"Is there too much cloud fever?," he responds. "The government will tell you they are not going to get it right on day one, they probably won't get it right 100 per cent and there will be a period of adjustment – and that's right and proper because the cloud and market will adapt," he said.
Government seesaw
Ferrar said the government is in a no-win situation of staying with the past or moving on to a newer, more uncertain, future: "This is a seesaw moment... On the one hand you have focus and re-assurance of outcome but risk missing a shift in the way the market goes. On the other hand, you can embrace some of the vagaries of the market and you risk lurching from one side to another as the market finds its equilibrium. There's a danger when commentators say it's all going wrong or it's all going brilliantly well. We will see scepticism across the commentary [on] whether it's working or not and that's probably a healthy place to be."
With fever comes delusion, and tech companies are feeding the cloud fever by claiming their software, hardware or service is "cloud". We have three accepted definitions of cloud – IaaS, PaaS and SAAS – and plenty of scope to claim that one offers a product or strategy that "enables" them.
Sponsored: Becoming a Pragmatic Security Leader