Egenera bags new OEM agreement with Fujitsu
Virty server control freakery for BX900 blades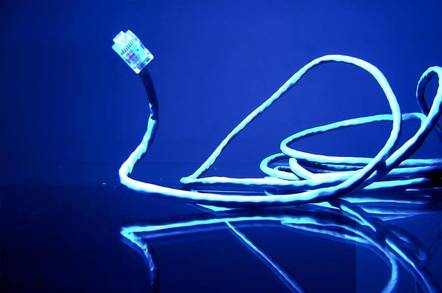 Blade server and virtualization pioneer Egenera, which has transformed itself from a system-maker to a system management software vendor, has inked another reseller agreement with long-time partner Fujitsu, this time peddling its PAN Manager tools instead of the BladeFrame systems that put Egenera on the map more than a decade ago.
Egenera and Fujitsu have been partners in Europe for a long time and have sometimes been competitors, too. Back in September 2005 – four years after Egenera brought its BladeFrame products to market and was seeing good uptake of its blade designs – Fujitsu inked a 30-month, $300m reseller agreement with what was then Fujitsu Siemens Computers. It was a partnership between the old school Japanese and German server makers. The reason Fujitsu would do that is simple: It didn't have its own blade act together and it needed more flexible and reconfigurable machines to make big IT shops in Europe happy running SAP and other big ERP packages.
The BladeFrame system was the brainchild of Vern Brownell, the former CIO at brokerage house Goldman Sachs, who incorporated Egenera in March 2000 and brought the company's first products to market in October 2001. A BladeFrame consolidated 24 two-way or four-way server blades plus networking and storage into what Egenera calls a processor area network, or PAN.
The BladeFrame is built from the ground up to provide high availability clustering and dynamic resource allocation across the blades in the chassis, and it has what is basically a redundant SAN switching network (comprised of controller blades and switch blades) as the backplane connecting all of the components.
Egenera raised over $124m in four rounds of venture funding and looked to be headed for the big time when it filed to go public in 2004... But then all the other big server makers got their blade server acts together (more or less) and VMware got a decent version of its ESX Server bare-metal hypervisor out the door. Since then, Egenera has had a hard time competing in the hardware business and has shifted gears to get PAN Manager certified to run on blades from Fujitsu, Dell, and Hewlett-Packard. The firm is also rumored to have a deal in the works for NEC blades that could be inked later this year.
Back in the summer of 2010, Egenera did a deal so Fujitsu could OEM its PAN Manager software and run it on Fujitsu's Primergy BX900 blade servers. This was appealing to the BladeFrame customers in Europe, who were looking for an upgrade path to more modern iron but who did not want to change their management software. But according to Thomas Duda, vice president of Egenera's EMEA operations, even though Fujitsu did the deal, the parent company back in Japan wanted to push its own Systemwalker Resource Coordinator Virtual Server Edition and related operations tools. The extended BladeFrame OEM contract ran out in February 2011, and now it is a year later and customers in Europe who are using the BladeFrame iron want to get more oomph and they are leaning on Fujitsu to do something.
"Not everything in that relationship went as expected, like a marriage," Duda tells El Reg regarding the deals it inked with Fujitsu back in 2010. "But based on feedback from customers, Fujitsu came to the conclusion that it is better to serve the BladeFrame installed base."
And so now, Fujitsu doesn't just have a new OEM reseller agreement with Egenera, but it has worked with Egenera to create porting tools to move BladeFrame customers to BX900 blade servers running the latest PAN Manager software. Technically, the OEM agreement is with Fujitsu Technology Solutions, which is not just bundling the product on Fujitsu's blades but also stretching out that one-throat-to-choke that IT shops want when they buy a product.
Interestingly, according to Duda, customers using older BladeFrame iron are not being told they have to get rid of that machinery. Customers adding BX900 machines to their data centers can have PAN Manager designate the BladeFrame machines as disaster recovery targets or spare capacity.
At the moment, PAN Manager is supported on Fujitsu, Dell, and Hewlett-Packard x86 servers, with a rumored deal with IBM always in the works but never quite done. NEC is supposed to be adopting PAN Manager as a virtualization and orchestration option for its Express5800 blades, too. HP and Dell have cooperative agreements to peddle PAN Manager, but both companies have their own virtualization infrastructure as well as partnerships with VMware and designs on the OpenStack cloud fabric that obliquely competes against PAN Manager. Duda says that HP's Matrix and Dell's VIS virtualization and orchestration tools are aimed predominately at large shops with big IT budgets and that PAN Manager is a less costly alternative that is suitable for many use cases, not just at midrange shops with midrange budgets.
Egenera just took the wraps off of PAN Manager 7.2 two weeks ago, which allows for the PAN OpsCenter management console to be run in a virtual machine on a server rather than on a dedicated server, which is a good thing for a company selling virtualized infrastructure. (PAN Manager knows how to hook into virtual machines as well as to provision capacity on bare metal blades.)
The 7.2 update also adds support for HP's Flex10 switches and has better coordination with VMware's vSphere hypervisor tools to move workloads around a cluster when needed, say when a node is about to fail. PAN Manager 7.1, which came out last November, doubled the scalability in terms of the number of blades under management and also offered many-to-one disaster recovery setups, cutting down significantly on the amount of iron customers need to deploy to cover themselves against the occasional server node failure. The company is committing to enhancing PAN Manager so it can handle up to 16 management domains, with a total of 256 blades, as a single pool of resources sometime in 2012.
Egenera never did get around to going public, so it does not provide financial figures, but the company says it now has over 500 customers and thousands of discrete deployments worldwide. The company adds that it exited 2011 with its eighth straight quarter of profitability and that revenues for PAN Manager are up 400 per cent. ®
Sponsored: Becoming a Pragmatic Security Leader