'Special relationship': Oracle bags UK.gov contract renewal
Cabinet Office sticks to big biz for Whitehall database – with some caveats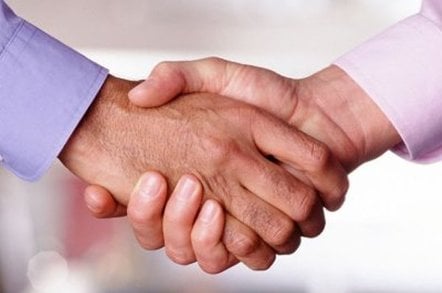 Database giant Oracle has bagged a renewed contract to supply its technology to Whitehall in a deal that the Cabinet Office claimed would save £75m for taxpayers by 2015.
The California multinational is one of the biggest provider's to government, Francis Maude's department said when announcing the agreement this morning.
It outlined the following areas where those savings will supposedly be met:
A single discount. In the past, different parts of government have brought software from Oracle on different terms and at different discounts. Today's deal will mean that the government acts as a single, intelligent client, with all departments buying software using the same discount rate.
Licence sharing. Software licences can be re-used across departments rather than each department having to buy licences that the government already owns.
Bulk buying. The government can maximise its buying power and buy in bulk as a single customer.
Shared services savings. Savings from the government's spend on back office (so called "shared services", such as HR and payroll) through reduced requirement for software upgrades.
The Cabinet Office appears to have struck a fairly good deal with the database company, which appears to loosely tie in with Maude's apparent desire to move the government away from being locked in to single suppliers – even as it in effect remains locked in.
After all, the fact remains that the Cabinet Office has once again inked a deal with a huge supplier rather than farming out the work to smaller players. Oracle remains a key government supplier – at a cost.
Indeed, the agreement is likely to dismay those who thought G-Cloud would open up government databases, middleware and business applications to greater competition from smaller businesses.
Oracle is notorious for its expensive pricing, especially when it comes to its per-core pricing model.
Pricing for products such as WebLogic has been hiked, with Oracle paying little attention to customers who have complained about the increases.
Meanwhile, Maude has said he "aspires" to meet a target of 25 per cent to "channel" government business to SME suppliers by 2015.
Oracle's president and CFO, Safra Catz, unsurprisingly welcomed the contract renewal. She said:
The relationship with the UK government has always been very special to Oracle.
Maude claimed the deal represented "better IT for government and savings for the taxpayer".
He added: "The days of the government paying different prices for the same goods or services are over - we will no longer sign inflexible contracts that tie the taxpayer into unfavourable terms.
"We are pleased to have made these savings with Oracle and expect more deals with other suppliers to follow."
The Cabinet minister began renegotiating Oracle's government contract in August 2010.
But do those 'savings' add up?
Earlier this month, the National Audit Office – which scrutinises public spending on behalf of Parliament – warned against certain aspects of the Cabinet Office's approach to negotiations with key suppliers to government.
"The initiative for government departments to share back-office functions has suffered from an approach which made participation voluntary and tailored services to meet the differing needs of individual departments. The result was over complexity, reduced flexibility and a failure to cut costs," said head of the NAO Amayas Morse.
"The new Cabinet Office strategy on shared services acknowledges these issues but, if it is to achieve value for money, it must learn the lessons from past implementation. Only in this way can the sharing of back-office functions have a realistic prospect of contributing towards the government's drive to cut public spending in the long term," he added.
The NAO published a report highlighting that a £47m upgrade investment was required from the government to cover the costs of updating Oracle's ERP [enterprise resource planning] systems before November 2013 at three shared service centres.
At present, the Cabinet Office spends around £1.5bn a year on finance, procurement, HR and payroll systems.
The NAO noted in its report that Maude's department would be required to cough up around £50m of transition costs and between £26m and £77m on redeployment, offset by one-off savings of £32m by shunning the Oracle upgrade costs.
But the public spending watcher urged caution about the Cabinet Office's ambitious strategy and said that the estimate of transition cost appeared "low for such a large and complex programme." ®