HP and EMC battle for the soul of server storage
Donatelli repels Gelsinger storage invasion
Then things get even more interesting...
The blog continues:
Smart Data Services that HP has delivered with its Gen 8 storage products. These services lay the groundwork for HP's storage to dynamically accelerate workloads and protect your data using integrated smart analytics and workload-aware intelligence. This HP unique technology distributes intelligence throughout the server platform so that the storage system can dynamically identify workloads and optimise performance throughout the system.
This capability orchestrates optimising performance throughout the storage, memory and network systems.
With Smart Data Services in place, you'll benefit from great new innovation such as the SSD wear gauge that predicts the lifespan of SSDs as well as future solid state acceleration technologies that dynamically optimise the performance of your local and external storage.
HP could see its customers becoming born-again EMC customers
It seems obvious that HP's storage tiers will include a Smart Cache (flash) in the servers, disk in the servers, and SSDs and hard disk drives in the back-end arrays. There may be an intervening shared-access flash storage product as well. There may well be an either-or relationship between a server's direct-access disks and a shared back-end array, be it file or block.
End-to-end data tiering
The back-end arrays will – as they must – include the 3PAR arrays and maybe the P4000s for block storage, and the P400, X1000, X3000 and X5000 filer boxes. The end-to-end storage system will ensure the requisite hottest data is in the server's Smart Cache using workload-aware intelligence. This suggests that the data-tiering algorithm knows about – or is told by some other software about – the workloads that a server is running.
For example, there could be specific data-caching strategies for ESX and Hyper-V hypervisors and virtual machines (VMs) as well as for popular operating systems and apps in these VMs, such as SQL Server, Oracle and SharePoint.
We're told that: "This HP-unique storage technology in next-generation ProLiant servers helps you achieve six times higher performance for transactional workloads and 50 per cent more performance for video streaming applications, compared to previous generations." That's what we have now, without the end-to-end Smart Caching technology that's coming. We should expect even greater performance improvements with that.
We are not seeing this fancy new end-to-end, flash cached Smart Storage co-ordinated in the back-end arrays in gen 8 servers and HP storage arrays yet. El Reg understands that this is partly because it has to be tested and validated against the vast range of HP hardware and software with which ProLiants integrate and interoperate, such as HP's management software, as well as the Hyper-V and ESX hypervisors.
Then there's the array controller software development needed to tier data across these storage-array-to-server tiers. This takes time. There's also the time needed to test it against the other HP hardware and software products that will integrate and interoperate with it.
TPC-C puzzle
There is more of HP's thinking in a DWA brochure (PDF). This brochure includes this claim: "Recently, this technology helped HP ProLiant achieve the No 1 TPC-C benchmark in the industry." As we note here, there is no number 1 ranking for HP in the published TPC-C benchmarks, leaving El reg storage desk puzzled – and with a few questions to ask HP. The highest HP TPC-C result is a 2007 Integrity Superdome-Itanium system, which achieved 4.092,799 tpmCs and is ranked at sixth in the "all results" tpcC charts. That's hardly "recent". There is a ProLiant G7 server result from late 2010 and that doesn't qualify as "recent" in our book either.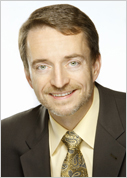 EMC's Pat Gelsinger
Getting back to the server storage, no way does HP want to see its servers invaded with EMC VFCache cards. Donatelli's Smart Storage has to repel Gelsinger's flash cards from HP's customer base and cement the use of HP arrays with HP servers. To parrot a Dell marketing cry, HP servers and HP storage are going to be "better together".
If Donatelli fails, and HP's server customers see benefits in sexing up their ProLiants with VFCache, then, as Gelsinger's part of EMC links VFCache closer and closer to EMC's coming shared flash array (Thunder) and to EMC's back-end arrays like VNX and VMAX, EMC storage could invade HP's base. HP could see its customers becoming born-again EMC customers.
You can imagine Donatelli saying: "Not on my watch!" HP's marketing subtext is "Get thee gone, Gelsinger."
This really is a fight for the soul of server storage.
The winner of this fight for the storage soul of the HP customer base will be the supplier who best links HP server flash storage to back-end array storage arrays and delivers the most perceived server application performance enhancements.
EMC has to win this fight by the way. If one server-storage vendor locks EMC out of its base by closely integrating server flash and back-end arrays to boost server app performance better than a stand-alone array vendor – then others, like Dell and IBM, can do it. Fortunately EMC has VMWare in its box of tricks and can use VMware's ESX to link anybody's servers + VFCache to its back-end arrays.
What about other stand-alone storage array vendors? Yes, that means NetApp at the top of the list. It had better pre-empt HP's efforts, as EMC has done, because once HP has linked its arrays to its servers in this way it will be damned hard to make inroads against it.
This really is a fight for the soul of server storage.
HP has the servers and will have the flash and will have the data tiering. EMC has the flash and will have the tiering. Which one of the two suppliers will get your vote? ®