August DTV700B portable Freeview TV and DVR
Mobile home entertainment?
Unscheduled service?
Besides standard Freeview MPEG2 reception this model now includes DVB-T H264/MPEG4 compatibility, which is irrelevant to the UK but may be useful in Ireland and a few other European countries that employ it for standard-definition digital terrestrial TV. There's no DVB-T2 for HD, which would be wasted at this size, although its more robust error correction might have been handy.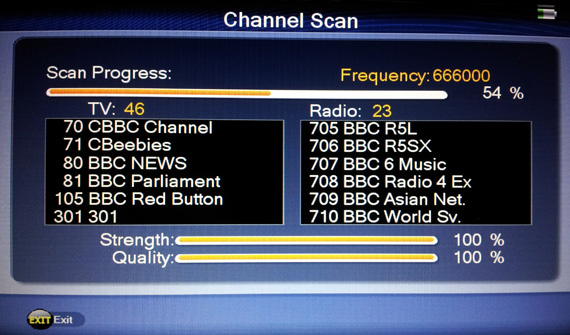 If you're very lucky you'll get a decent set of channels
The controls – from the device itself or with its credit card sized remote – are all rather fiddly and counter-intuitive. Its spec list boasts of a seven day programme guide and 'PVR style recording'. However, all it can seemingly do is record what's on now; with no sign of being able to schedule ahead with the EPG or manual timer. That's not like any PVR I've seen.
If you switch to standby, recording stops. Recording blocks other functions too, meaning no playback of other content while doing so. There's also only one tuner, so you can't watch another channel at the time.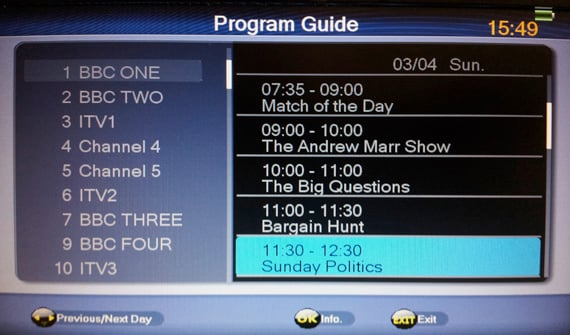 You can't record something unless it's on right now
The DTV700B records the raw MPEG-TS (transport stream). If you're looking to export to something else, it splits recordings into small chunks, instead of making one simple file. My WD TV Live handled them – interrupted about every ten minutes when each file ended – but PC software such as VLC Player rejected them as incomplete.
Apart from the antenna, memory card and USB inputs, there are no other video inputs or outputs. SD cards and USB disks must be in FAT format (not NTFS) and the USB also accepts hard disk drives as well as flash-based thumb drives. I couldn't find any way to delete content or reformat, so you may need spares or a laptop on your travels.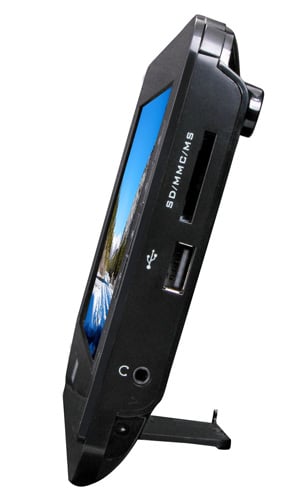 USB and SD slot for limited recording and media playback
There is also a multimedia player, though it stretches the meaning of 'multi'. The user manual lists various codecs and container formats (including MP4, MOV and MKV) but it may as well say daguerrotypes, wax cylinders and video holograms for all the good it does. The only video format I could verify was DivX/XviD in AVI.
Even after checking that the test files I was using didn't exceed the TV's maximum 800 x 480 native resolution, every other attempt came back with a Pidgin English error report such as 'Resolution Not Support' or 'Un-support!! Out reference range'. It will happily show high-res JPEG photos, albeit downscaled, so it's disappointing that the video side is less versatile.
Verdict
Getting portable TVs to perform well in the digital age is obviously a challenge, especially with the relatively outdated system the UK is committed to for now. Given a good signal, the DTV700B has a decent picture, so it acquits itself on that count. But getting that kind of reception, especially on the move, is a tall order. Its recording and media playing abilities fall well below expectations, and although battery life has improved, it's still below four hours. ®
More Gadget Reviews

Pure
Highway 300Di
in-car digital radio
Lantronix
xPrintServer
Archos 35
Home Connect
Colorfly
Pocket Hi-Fi C4
Videotree
VideoSpa
bathroom TV

August DTV700B portable Freeview TV and DVR
Portable digital TV with 7in display, USB/SD card recording and media player.