Google cools data center with bathtubs, dishwashers
No, not toilets or urinals – yet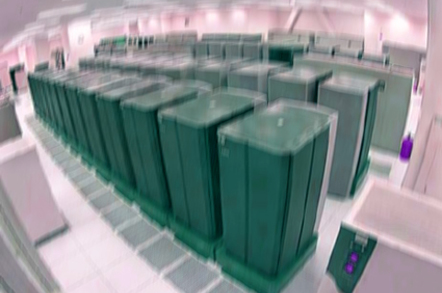 Google has partnered with a local water-treatment utility to cool a massive data center using greywater – that's water recycled from residential bathtubs, showers, washing machines, and the like.
The data center in question is located in Douglas County, Georgia – that's the Georgia of Sherman's March to the Sea, not the Georgia of the Rose Revolution.
When it was first constructed in 2007, explains the data center's facilities manager Jim Brown in a blog post, the center's evaporative cooling system used the same drinking water that was also supplied to local residents.
"But we soon realized that the water we used didn't need to be clean enough to drink," Brown writes. "So we talked to the Douglasville-Douglas County Water and Sewer Authority (known locally as the WSA) about setting up a system that uses reuse water – also known as grey- or recycled water – in our cooling infrastructure."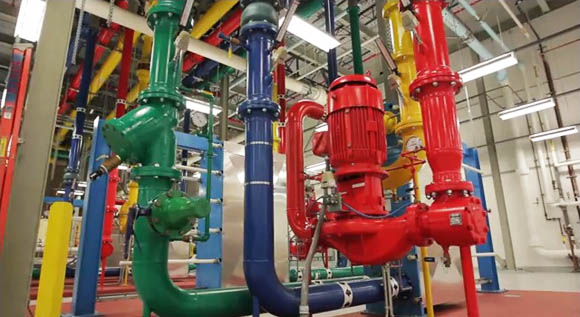 The oh-so-googley plumbing in the Douglas County data center
With the cooperation of the WSA, Google tapped into that utility's water-treatment plant to suck away around 30 per cent of greywater that would otherwise be dumped into the nearby Chattahoochee River, aka "The Hooch".
That water is first sent through a Google-built sidestream treatment plant, which sterilizes, filters, and clorinates it, cleaning it just enough for it to be used in the data center's evaporative cooling towers.
The water that doesn't evaporate away during that process is then further purified in Google's on-premises Effluent Treatment Plant. "There, we treat the water once again to disinfect it," Brown writes, "remove mineral solids and send it back out to the Chattahoochee – clean, clear and safe."
The system allows Google to use recycled water for a full 100 per cent of its plant-cooling needs, and the water that ends up in The Hootch is cleaner than it would have been if it had never been taken from the WSA's treatment stream, Google says.

Google's investment is not only environmentally friendly, but also financially prudent (click to enlarge)
As WSA executive director Peter Frost notes in a video explaining the process, "With them using the waste stream, we were able to retain water in our reservoir. That's particularly important in the drought period, the summer months, when there is extra stress placed on our system."
Not only does the use of greywater help the WSA and the river, it makes smart business sense for Google as well, seeing as how it doesn't need to compete for fresh, drinkable water with other businesses and residents during drought periods – there should always be enough grey water available.
Note that the water used in this process is greywater, not sewage, also known as blackwater. That luscious liquor, the output from toilets and urinals, still goes through the full panoply of the WSA's sewage-treatment services.
As of today, there's plenty of greywater in Douglas County for Google's use. In the distant, dry, digital future, however, during drought times when the mantra is "if it's yellow, let it mellow; if it's brown, flush it down", it's not at all unlikely that purified piss might be cooling your Google search for Thomas Crapper. ®
Sponsored: Practical tips for Office 365 tenant-to-tenant migration