Robotics breakthrough blasts crud from that bit behind the lav
Removable-bottom bot reaches for your fiddly bits
A water-pumping squeegee-wielding robot that can reach the awkward no man's land around the back of the loo was unveiled this week - a product launch narrowly overshadowed by the new iPad's debut.
At 3.5in (8.9cm) tall and 6.5in (16.5cm) in diameter, the nimble iRobot Scooba 230 is designed to reach your fiddly bits. The muck-busting droid takes up half the floor area that a new iPad would: the shiny fondleslab has a 69.4in² (448cm²) surface area, whereas the top surface of the new mini Scooba is only 33.2in² (214cm²). And iPads can't clean themselves, never mind the floor.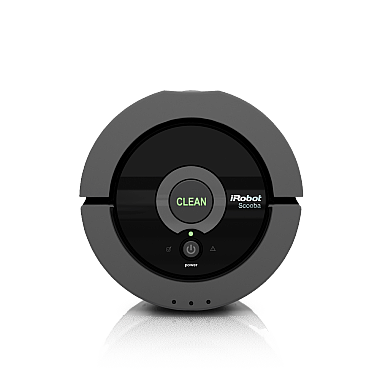 The Scooba 230 can clean up to 150ft² (13.9m²) in one go before requiring a refill via a removable bottom plate.
In the same product line update, the Roomba-maker announced the premium Scooba 390 with a 30 per cent longer battery life than its predecessors.
Using tech originally developed for bomb disposal, iRobot created a whole family of floor-cleaning 'bots that can avoid drops and cliffs, and automatically sense walls. As well as flogging more than 7.5 million sweeper drones worldwide, iRobot has sold at least 4,500 combat-proven automatons have been delivered to military and civil defence forces to perform search, reconnaissance and bomb disposal missions.
Scooba 390 is available now in the United States and is coming to the UK in the summer. ®