Apple New iPad Wi-Fi only
The screen's the star
Middle age spread
All that extra graphics power is absorbed by the 3,145,728 pixels on the screen so the new iPad isn't noticeably faster - or slower - when playing games or flicking from app to app. We'll have to wait for new retina-quality games such as Infinity Blade: Dungeons, rather than old ones with upgraded pictures, to see how the A5X really shapes up.
The other consequence of the retina display is the need for a larger and more powerful battery simply to maintain the existing ten-hour runtime. That battery is probably responsible for the burgeoning waistline of the new iPad – a whole 0.6mm on the thickness of the unit. At least that's what Apple says, but the iPad 3 feels more than several mills thicker.
After a day or so, you won't notice the extra girth - though you may need a new case - but the 51g weight gain on my Wi-Fi only model is definitely obvious – it is an increase of almost ten per cent after all.
However, my weekend of testing seems to suggest that the battery life is still hanging in at around ten hours, and that's more important to me than a little extra weight.
Incidentally, the 3G/4G model is only 49g heavier – the downside being that 4G connectivity sucks an extra hour out of the battery life. Or so we're told, because the UK doesn't do 4G yet, and it probably won't be iPad-compatible even when it arrives.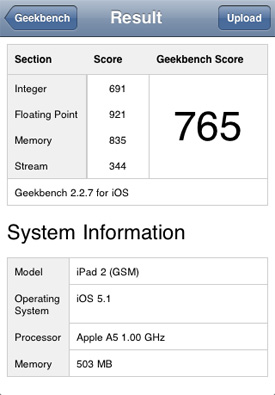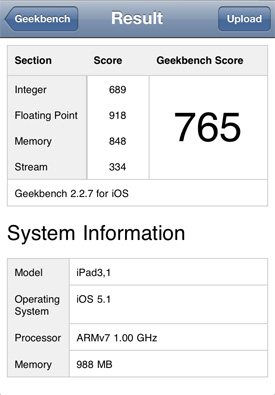 GeekBench 2 scores worked out identical overall
To be honest, the retina display and the new processor and battery are really the main things that existing iPad owners should think about when deciding whether or not to upgrade. Pricing for the new iPad remains unchanged, starting at £399 for a 16GB Wi-Fi only model and £499 for the Wi-Fi plus 3G/4G version. That's better value than the previous model, but it's still a lot of money to spend just to get a better screen.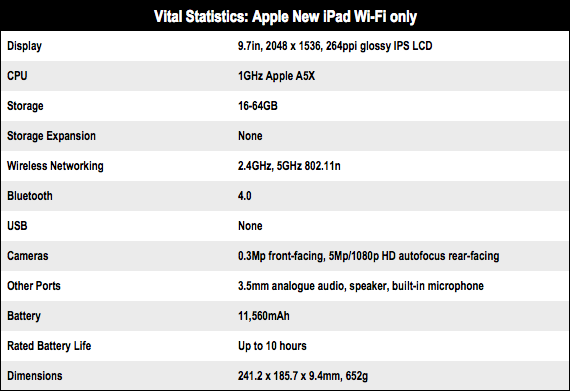 Sponsored: Webcast: Why you need managed detection and response