Sex-starved fruit flies hit the sauce
Satisfaction equals sobriety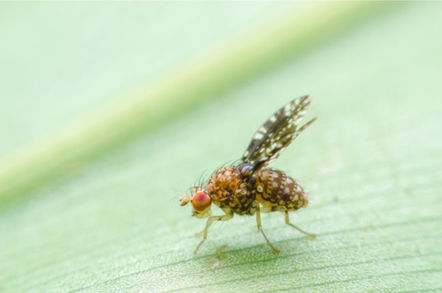 Fruit flies that can't get on the tail get on the sauce instead, according to a study from University of California San Francisco.
It isn't, however, simply because their misery sends them to the shot glass asking a handy pianist to "play it, Sam": rather, it's related to the brain's reward signals. In particular, it's about the behaviour of something called neuropeptide F.
The researchers – rather cruelly, if you happen to be sensitive to what happens to fruit-flies – divided their male populations. Some were confined with females that had already mated, and therefore weren't in the mood; others were placed in containers with receptive virgin females.
After their either successful or unsuccessful encounters, the males were offered a choice of food with and without alcohol, and the rejected males fairly binged on the souped-up soup, the researchers stated.
The lesson of rejection stayed with the unlucky males: even when given a chance at receptive females they were not as keen on mating, and were more keen on drinking.
All of this has, however, a serious point – how do the brain's reward mechanisms lead towards addictive behaviour. The levels of neuropeptide F, the researchers say, were a strong predictor of how the males would behave.
Lead author of the Science-published study, Galit Shohat-Ophir, describes neuropeptide F as a "switch that represents the level of reward in the brain and translates it into reward-seeking behaviour".
The behaviour of that neuropeptide, Shohat-Ophir believes, can also help manage the way that social experiences ("not interested") might be linked to the brain's reward mechanisms.
In the case of fruit flies, the researchers have found they can manage the tendency to drink using neuropeptide F: by activating its production, they were able to make the rejected flies act satisfied and curtail their drinking; and by suppressing it, sexually satisfied flies would behave as if they were deprived and drink more.
Humans' equivalent, neuropeptide Y, would be harder to manipulate safely, though: it's also involved in a large number of human activities, including eating, anxiety and sleep. ®
Sponsored: How to Process, Wrangle, Analyze and Visualize your Data with Three Complementary Tools