Mega squid use HUMONGOUS eyes to spot ravenous sperm whales
Boffins float theory on colossal creatures' eyesight
Ocean-researching boffins reckon they have figured out why giant and colossal deep sea-dwelling squid need the largest eyes in the animal kingdom: to spot huge predators like sperm whales.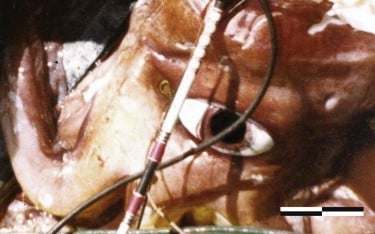 Fresh head of a giant squid caught in 1981 by fisherman Henry Olsen.
Picture by Ernie Choy at the pier, reproduced in the study.
The gargantuan many-legged creatures can have eyes the size of basketballs, which has puzzled many marine biologists.
"It doesn't make sense. A giant squid and swordfish are similar in size but the squid's eyes are proportionally much larger, three times the diameter and 27 times the volume," Duke University biologist Dr Sonke Johnsen said in a statement. "The question is why. Why do giant squid need such large eyes?"
Johnsen and the other marine experts in the study have found that the size and design of the squid's eyes could be used for spotting whales approaching from up to 120m away at depths below 600m.
The researchers first measured giant and colossal squid eyes using photos and captured animals, which was not as easy as it sounds because once the immense cephalopods die, their eyes become distorted.
Putting this together with data about the water clarity and quantity of light at the ocean depth where the humungous squid live, the boffins theorise that their eyes collect more light than other giant animals with smaller optical orbs.
This extra light-gathering ability allows the sea-creatures to spot faint bioluminescence from metres away. That bioluminescence is given off by plankton when they're disturbed by a whale's sonar, alerting the monstrous squids to the approach of something big enough to chow down on them.
The keen eyesight is of particular importance because the giant squids are deaf to the sonar that whales produce.
"It's the predation by large, toothed whales that has driven the evolution of gigantism in the eyes of these squid," Johnsen said.
Johnsen et al also think that the theory could provide insight into the vision of the Mesozoic ichthyosaurs, a type of swimming reptile that had unusually large eyeballs.
However, the paper, published in the journal Current Biology, is still a hypothesis.
"I like the idea. The paper is speculative, however," said Michael Land, a University of Sussex zoologist who was not involved in the study. "Big eyes are always better, and the laws of growth that tend to make large vertebrates have relatively smaller eyes may not apply to cephalopods. Maybe they just grow that big."
The boffin team plans to publish a compete theory on underwater vision later this year. ®