TV tax takers reveal Brits telly habits
3D? Meh. Mobile? Yes please
Britons now spend more time watching TV programmes after they have been broadcast. And more than a quarter of us watch TV on mobile devices, TV Licensing, the organisation that collects the Licence Fee, a television tax, said this week.
Brits together own more flat-panel tellies than any other Western European nation, even those with bigger populations, such as Germany. More than 42m flat-screen TVs were purchased between 2004 and 2010, with a further 9.3m 2011, TV Licensing's numbers, collected by pollster ICM, reveal.
We're not too bothered about 3D, though. Only 700,000 3D-capable sets were purchased last year, just 7.5 per cent of the total number of flat-panel TVs bought in the UK in 2011.
That's less than half the number of net-connectable TVs sold last year. These sets accounted for 16 per cent of the total, up from nine per cent the previous year.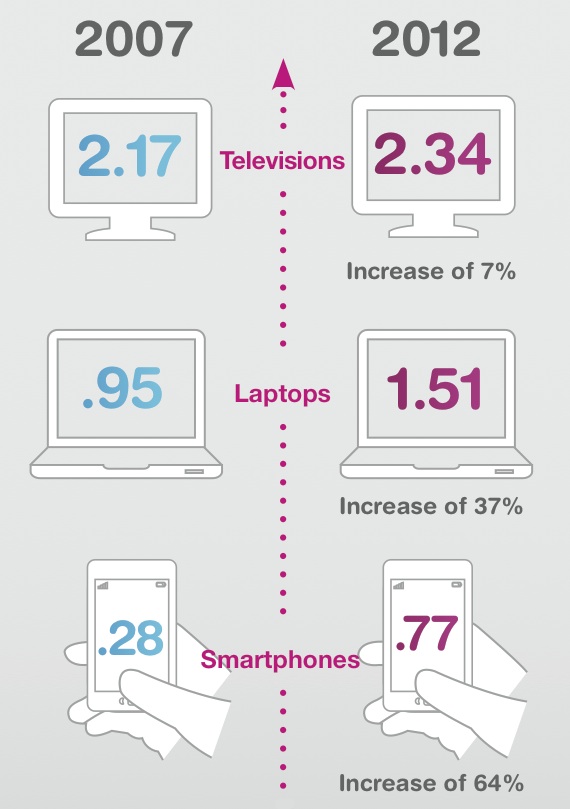 Source: TV Licensing/ICM
Size remains a key buying factor: more than two-thirds of the TVs bought in 2011 were smaller than 33in.
The average UK home now has many more screens on which to watch telly than ever before. Each household has, on average, 2.3 TVs, with 1.5 laptops, 0.8 smartphones and a third of a tablet.
With 46 per cent of the UK population now owning a smartphone, it's no surprise that 39 per cent of us watched TV on a handset during 2011. But only 14 per cent watched it on a tablet.
Most of these folk would have been watching catch-up services, such as BBC iPlayer, on their mobile devices. Catch-up viewing accounted for 9.2 per cent of all viewing in 2011, up from 7.1 per cent in 2010.
Looking ahead, TV sales are expected to total 8.7m units this year, fewer than 2011, though sales have been declining since 2009. We're a conservative lot: only nine per cent of punters say they will opt for a larger size than they currently own, while only five per cent of folk are planning to buy a new TV specifically for its 3D capability. Seven per cent want a connected TV.
More Brits - 11 per cent - will buy a tablet. Ten per cent will get a new smartphone.
Finally, we were going to list the year's most popular programmes but, to be frank, it's too bloody embarrassing. If you insist, you can find the damning information at TV Licensing (PDF). ®