Bring your backups out of the closet! It's time for 'Tape Pride'
Let go of that hardness, honey!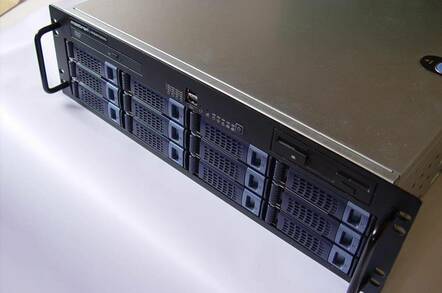 Comment The tape industry should stop making excuses and instead raise its head with pride. Tape is great for archiving and nothing else comes close. In fact the gap with disk competition is going to widen in tape's favour.
This was the gist of senior ESG analyst Mark Peters' message at Tape Summit in San Francisco, during which a clutch of tape vendors briefed analysts and the press. Tape is not only the best medium for backup, but it is great for archives because its total cost of ownership compared to disk, even if data is deduplicated, is lower.
In a presentation slide, Peters wrote: "LTO-­5 (in tape libraries) has a lower TCO than deduplicated disk. Disk options ranged from 1.78 to 4.16 times more costly. Tape exhibits a lower cost per GB, OPEX and energy consumption [than disk]."
An ESG survey found that business's top IT priorities this year include several relevant to tape:
Improve data backup and recovery (no. 1 priority)
Manage data growth (no. 4)
Information security initiatives (no. 5)
Business continuity/disaster recovery (no. 6)
Data centre consolidation (no. 7)
Naturally big data in all senses creates a more tape-friendly context with new vertical markets like media and entertainment particularly affected. Films in digital format simply keep on getting bigger. A tape reel holds more than a disk and a tape library holds very much more data than a storage array.
A lot of big data will be cold - with low access request rates - yet it needs to be kept safely in some place. Peters reckons that, overall, there are massive and growing data archive needs, with a five or sixfold data growth rate for the next four or five years. Keeping pace with this yet keeping storage costs controlled is where tape can step forward knowing that nothing else comes close to its value proposition.
Yes, tape is slow compared to disk, but so is a flatbed lorry compared to a Ferrari - and people buy a lot of lorries. They are great at what they do. Primary or tier-1 data needs to be recoverable in minutes. Nearline (tier-2) data needs to be recoverable in hours but archive (tier-3) data can, if necessary, be recoverable in a handful of days. Tape's speed and capacity and cost is ideal for archive.
It's better than disk because it has immense capacity for the immense archives that are coming or already here in some cases.
The Linear Tape File System makes tapes more easily searchable and loadable; Windows, Linux and other OSes see LTO-5 tapes as file system devices, to or from which files can be dragged and dropped.
Tape media integrity is verifiable. Tape has a bit error rate up to three times better than disk, and a 30-year life that can be relied on. Tape scalability, as shown by IBM's demo of a 35TB capacity cartridge, is tremendous; there are no hard areal density transitions ahead. Disk technology faces a demanding transition to heat-assisted magnetic recording or bit-patterned media as perpendicular magnetic recording runs out of steam. This will slow disk's areal density increase growth rate, and so widen the cost/GB disparity between disk and tape.
Tape pride in what you do
Peters said: "Guess what? Tape isn't dead. Perception isn't reality." It's a great storage option for archiving and for armageddon, so to speak, when data has to be recovered from a massive online failure, such as that notorious Google email outage last year.
He recommends moving the positioning of tape from being apologetic to being aspirational, and suggests a "Tape Pride" approach. For example, tape is SLOW, meaning great for Secure Long-term On-line Workloads and TAPE is The Answer for Persistently Economic storage.
Tape vendors should work together and become assertive as an industry. They should say that, in the archive world, tape is much better than spinning rust. They should work together to grow the size of the tape archive pie more than competing with each other for the greatest slice.
Tape is good. Tape is great. Wear your tape usage with pride. ®
Sponsored: What next after Netezza?