Oldest skeleton found in South Australia
500 million year old fossil like 'a thimble with needles'
Researchers from the University of California Riverside and the South Australian Museum have turned up a surprising creature more than half a billion years old, showing signs of a skeleton.
The find, called Coronacollina acula, is the oldest fossil so far discovered to show signs of 'hard structure' development, the researchers say.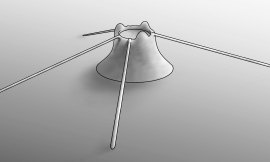 A UC Riverside reconstruction of Coronacollina acula.
Image: Daniel Garson/Droser lab, UC Riverside
According to UC Riverside professor Mary Droser, it's the first fossil to show "skeletal body parts" in pre-Cambrian specimens. The Cambrian period from 542-488 million years ago, showed a huge diversification of life, while the Coronacollina acula specimen dates from the Ediacaran period, from 630-542 million years ago.
Droser also says the fossil provides a link between the two periods, "a precursor of organisms seen in the Cambrian. This is tremendously exciting because it's the first appearance of one of the major novelties of animal evolution".
The creature, a sponge-like animal that may have grown as large as 5 cm, isn't observed directly: it's spotted as a small depression in fossils. Living on the sea floor, the scientists believe the 20-to-40 needle-like 'spicules' attached to help support the structure.
While its sponge-like body didn't survive the millions of years that have passed, the spicules did: they became mineralized.
Coronacollina acula was immobile, and while it was gregarious (with hundreds living together, according to Droser), its reproduction remains a mystery.
The research is published in the journal Geology (abstract). ®