Big Blue goes terabit with opto transducer
'Holey Optochip' sets record for speed and cheesy names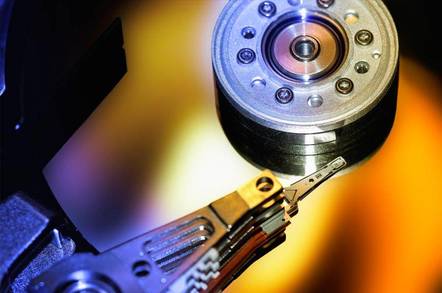 With the growth of terabit optical systems, the race has been on to shrink their components, so it's no surprise that IBM has attracted attention with its demonstration of the 'Holey Optochip', a single-chip transceiver with terabit per second transfer speeds.
The prototype, demonstrated at the Optical Fiber Communication Conference at Les Angeles, runs eight times as fast as current components, according to IBM.
Along with the usual pop-sci illustrations of terabit speed – 500 HD movies, able to carry the entire US Library of Congress Web archive in one hour and so on – IBM provides some interesting details into the chip's construction.
IBM scientists created the device by fabricating 48 holes through a standard silicon CMOS chip. These holes direct the optical signals to 24 each transmitter and receiver channels.
The mundane components used to construct the prototype make the chip suitable for today's commercial fabs, Big Blue says. The company says it will be able to populate entire CMOS wafers with the chips, since it uses standard wiring levels and requires only simple post-processing on completed wafers (the fabrication of the holes, for example).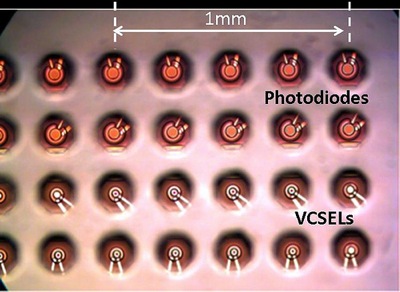 In this IBM photomicrograph, photodiodes and VCSELs are
visible through holes in the substrate.
Each Holey Optochip transceiver set measures 5.2 x 5.8mm and uses standard photodiode arrays and VCSELs (vertical cavity surface emitting lasers) soldered to the chip. The finished package is designed to be directly coupled to a standard 48-channel multimode fibre array, supporting high-volume packaging.
The chip also claims high power efficiency, operating its 24 I/O channels at just 5 watts.
IBM will be targeting the chip at systems for short-reach (150 meter) data transfers such as in data centre networks. ®
Sponsored: Becoming a Pragmatic Security Leader