HP readies public cloud for May launch
Like Amazon, but really OpenStack in a suit
After three CEOs and several years, it looks like server juggernaut HP is finally getting ready to launch its public cloud.
The company has been tight-lipped about its plans, but Zorawar Biri Singh, senior vice president and general manager of its Cloud Services unit, was in a talkative mood when approached by The New York Times, revealing some details and confirming a number of things El Reg told you about last year.
Even though Singh spilled some beans to the NYT, the cat had HP's tongue by the time El Reg came a-calling. "HP first announced its intention to have a public cloud offering last year, and announced a private beta for HP Cloud Services in September 2011," an HP spokesperson told us. "HP Cloud Services is currently in private beta and is planned to be opened to the public this spring."
As El Reg reported last May, Scott McClellan, chief technology officer for the company's Business Critical Systems division and an interim VP of engineering for the cloud services biz, outted the specs of HP Cloud Services in his LinkedIn profile.
The future HP public cloud will include compute, network, object storage, and object storage services at the infrastructure layer; common shared services for authentication, metering, logging, auditing, and billing; and a platform layer with frameworks for Java, Ruby, and other open source programming languages.
There was speculation that HP would call its public cloud by the name Scalene, but that didn't happen. McClellan has since moved on to commercial Linux distributor Red Hat, and now Singh is in charge of HP Cloud Services.
You can see the private beta for HP Cloud Services at www.hpcloud.com. As you might expect, HP has built its public cloud on the OpenStack cloud framework founded by NASA and Rackspace Hosting back in July 2010.
HPCS, as this cloud will likely be called in common usage, is using the OpenStack "Nova" compute fabric to make the HP Cloud Compute service and the "Swift" object storage add-on from OpenStack to create its HP Cloud Object Storage. HP is running the OpenStack software on its own "converged infrastructure", which is a fancy-schmancy way of saying x86 servers with HP storage and switching.
It is not clear if HP is using its full-on CloudSystem iron to host the OpenStack fabric, but it seems unlikely. CloudSystem is a superset of its BladeSystem blade machines with complete virtual machine and application orchestration, and integrated switching and virtualized networks.
In a sense, OpenStack competes with CloudSystem, and it is very likely that to be competitive on price for infrastructure and platform cloud services, HP will have to run OpenStack and some add-on tools for systems management on less expensive ProLiant rack and cookie-sheet servers.
That said, considering that HP can get its servers, switching, and storage at cost, there is a possibility that HP will run its Cloud Services atop the cloudified BladeSystem machines, and make use of all of the operational goodies it has been trying to sell to enterprises and service providers for the past few years as they build private and public clouds.
Up at the platform level, HP will support Java, Ruby, PHP, and Python programming tools and a "full suite of web management and reporting tools." The idea is to build an infrastructure cloud that software vendors can trust to deploy their own apps on as they move from selling software to customers to renting its use in SaaS mode to customers.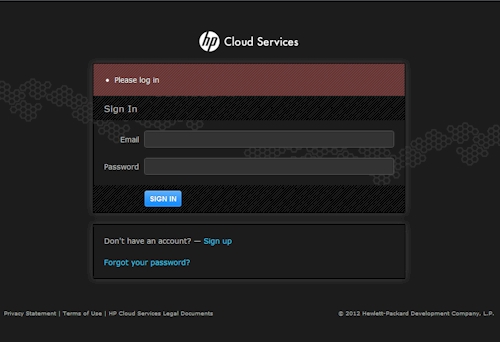 HP Cloud Services – almost ready for prime time
The main differentiator for HP compared to the touchstones for raw compute and storage cloud capacity – which are Amazon's Web Services EC2 compute and S3 storage services – will be broad and deep technical support. HP says it has created "a full range of self-service tools" and will offer around the clock business-grade support to customers through chat, email, community forums, and phone.
The initial HPCS will use OpenStack to spin up virtual machines based on Canonical's Ubuntu 10.04, 10.10, and 11.04, as well as CentOS 5.6, with other operating systems being added down the road. HP is using KVM as its hypervisor. Virtual machines on HPCS range from an extra-small with one virtual core, 1GB of virtual memory, and 30GB of local disk to a double-extra-large with eight virtual cores, 32GB of virtual memory, and 960GB of local disk.
HP is positioning the storage service as an adjunct to the compute portion of HPCS, suitable for archiving and backing-up data, serving static web content and streaming media, log-file storage and analysis, audio and video transcoding, and running big-data jobs such as MapReduce.
At the moment, according to Singh, HP is supporting the private beta of its Cloud Services in data centers on the East and West coasts of the US. But eventually, Singh told the NYT, HP would put the cloud in small data centers all over the globe.
Given some of the constraints about moving across or processing data outside of national boundaries, it seems likely that HP will end up putting infrastructure in every country where it currently sells servers and services.
The company is also apparently gearing up its Vertica in-database analytics and Autonomy unstructured data searching applications, both acquired last year. And finally, HP will be using its Cloud Services to show off its latest server, storage, and networking iron.
Presumably there will be versions of HP Cloud Services running Microsoft's cloudy Windows Azure stack, as was promised in July 2010. But maybe not.
One more thing: if you're looking for a job, HPCS is hiring a slew of software engineers, software developers, marketing, and product-management people. ®
Sponsored: How to Process, Wrangle, Analyze and Visualize your Data with Three Complementary Tools