Tech titans say sayonara to Japan in quake wake
Cruel snub after tsunami rebuild struggle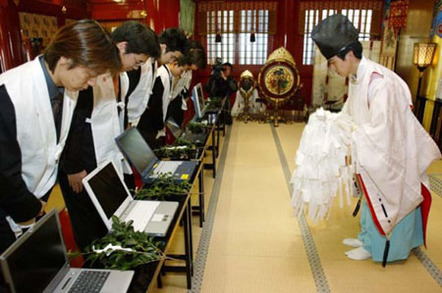 Almost a year to the day after a huge earthquake and devastating tsunami rattled the north-east corner of Japan, crippling the supply chain of key technologies, the production at some components plants is reportedly still not back to 100 per cent while some tech firms are accelerating their plans to leave the archipelago.
The magnitude 9.0 earthquake struck the Tohoku region of north east Japan on 11 March 2011, triggering a huge tsunami which devastated much of the coastline, killing over 15,000 residents, and causing three reactors at Fukushima Daiichi nuclear power plant further down the coast to go into melt down.
With Japan supplying around 70 per cent of the world's silicon wafers, over one-third of global NAND production and one-tenth of DRAM production as well as being a significant producer of LCD monitors, there were fears of serious knock-on effects for the supply chain.
At one stage analysts even warned that – gasp – the iPad 2 could be delayed given that several components were being produced by plants in Japan.
With aftershocks of magnitude 5 and above regularly striking the region over a week after the initial quake struck, semiconductor fabs for one were hampered in their efforts to get back on track.
NAND and DRAM prices also saw an initial spike after analysts warned of potential shortages, although these fears were gradually allayed.
In fact, the market ultimately proved incredibly resilient considering the scale of the natural disaster in Japan, despite various alarmist media and analyst reports.
Even the predicted power black-outs across the country during summer as a result of the critically unstable Fukushima plant didn't severely affect production, with some large plants reportedly installing power generators to keep equipment working.
GFK analyst Yotaro Noguchi told The Register that silicon wafer production at companies including Shin-Etsu Chemical and MEMC Electronic Materials returned to full capacity again by July and that the four-month hiatus didn't unduly affect the supply chain thanks to a large inventory.
Struggling to recover
However, IHS iSuppli analyst Satoru Oyama was more pessimistic, noting that while industry in general has bounced back, some Japanese electronics firms have struggled to recover from the effects of the disaster.
"They've made a good effort to recover but from a market share point of view Japanese companies have declined from a worldwide perspective," he told The Reg. "It affected almost all of 2011."
Although total worldwide semiconductor revenue for 2011 was almost flat at +1.3 per cent, Renesas' sales for the year declined 10.5 per cent, as did those of Toshiba (-2.2 per cent), Sony (-4.0 per cent), Elpida (-39.7 per cent) and Panasonic (-31.5 per cent).
Some of these figures can be explained by a strengthening yen and other factors, but the impact of the disaster on production plants definitely can't be ignored, said the analyst.
Oyama singled out semiconductor firm Renesas Electronics, whose main factory in Ibaraki was crippled by the quake.
With over 40 per cent of the microcontroller market for automobiles, the firm was by far the market leader so when it couldn't meet demand from big name clients such as Toyota and Nissan it was forced to recommend rivals such as Freescale Semiconductor or STMicroelectronics, said Oyama.
"If a customer has had no problems after switching from Renesas then why do they need to change back again? This could be a big issue for Renesas in 2012; I wonder what percentage of customers will come back to them," he added.
Sony was also highlighted by Oyama as being hit hard by the earthquake and tsunami, initially closing six factories in the Tohoku region which particularly affected its production of lithium-ion batteries.
While most of the manufacturing plants took just a few months at most to recover physically from the effects of the triple disasters, it seems to have accelerated plans some tech firms had to relocate some of their facilities off the archipelago, Oyama explained.
"After the earthquake the yen has also gotten stronger so Japanese companies are shifting the production of semiconductors and end products like consumer electronics – mainly to China as well as other Asian countries," he said.
The calculation of how much damage was done to the supply chain by the disasters in Japan has been complicated again by the Thailand floods which hit industries that were just reaching full recovery.
In the end the scale and persistence of the Thai floods could yet cause more long-term damage, at least to the semiconductor industry, than the disasters in Japan.
In fact, despite the relentless doom-mongering in the weeks following 11 March 2011, the fact that most plants in Japan were back up to near full production by July is testament to the preparedness and resilience of the companies and people involved. ®
Sponsored: Webcast: Build the next generation of your business in the public cloud